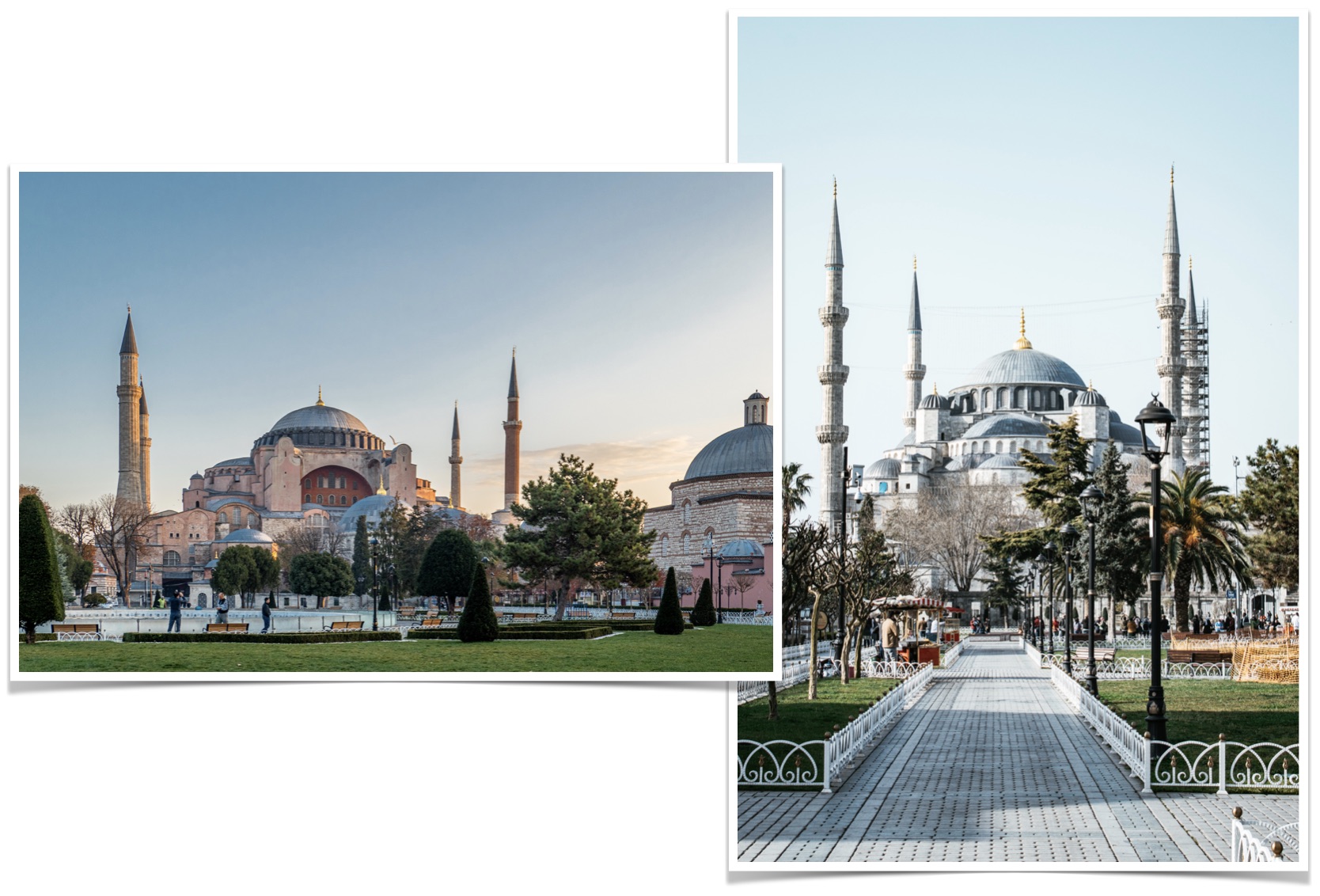 17 Jun

Wanderlust: Istanbul

As many of our readers know, I am half Turkish and have spent a lot of time in Turkey growing up and as an adult. To my surprise, many European, African, and Asian flights have connections in Istanbul, with rather long layovers. I guess the old adage "where east meets west" still applies! This time around, I thought it would be fun to share my top 7 recommendations for Istanbul. So if you have a layover in Turkey, or if you're simply planning a trip there, these are my favorite places to truly experience the wonders of Istanbul.

1. Take a Water Taxi on the Bosphorus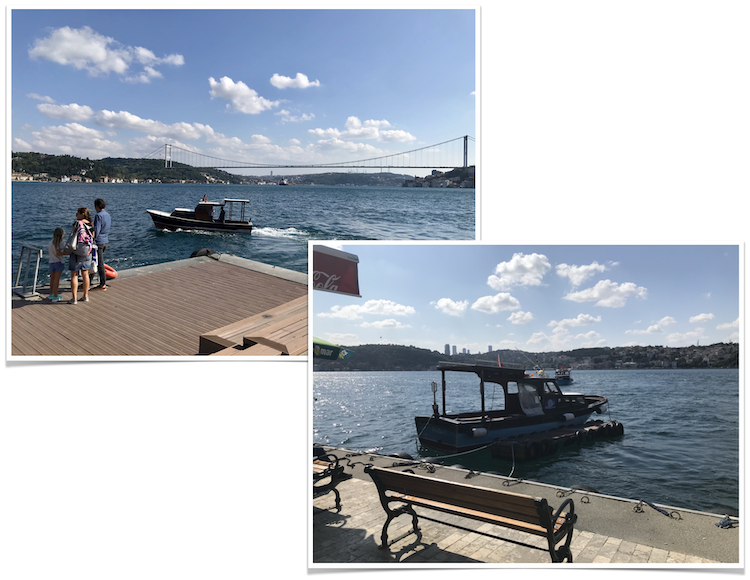 Istanbul is a city that sits between two continents, Europe and Asia. Although you can drive over the bridge to get between continents for an incredible view, there is often traffic and the journey becomes harder to enjoy. Instead, opt for a water taxi! These small motorboats are often lined up at the water, ready to take passengers back and forth for what equates to a few dollars. Once you embark, you get to understand how vast the Bosphorus Strait truly is. This trip is short lived and only takes about 10 minutes to cross- a welcome break from the ever present traffic that has become synonymous with the city.
2. Explore the Grand Bazaar
I have to admit, growing up the Grand Bazaar always seemed a bit touristy to me. However, after visiting as an adult I began to understand the wonderment that place holds. People from all walks of life, and all parts of the globe are present in this bustling market. The Grand Bazaar is one of the oldest in the world, and has over 4000 shops and vendors within its walls. If you find yourself eyeing a special purchase, make sure to negotiate on the price. Haggling is a part of the culture, and foreigners are often taken advantage of if they do not know this trick. That being said, even if you have no intention of buying anything, this is an experience unlike any other.
3. Eat Turkish food!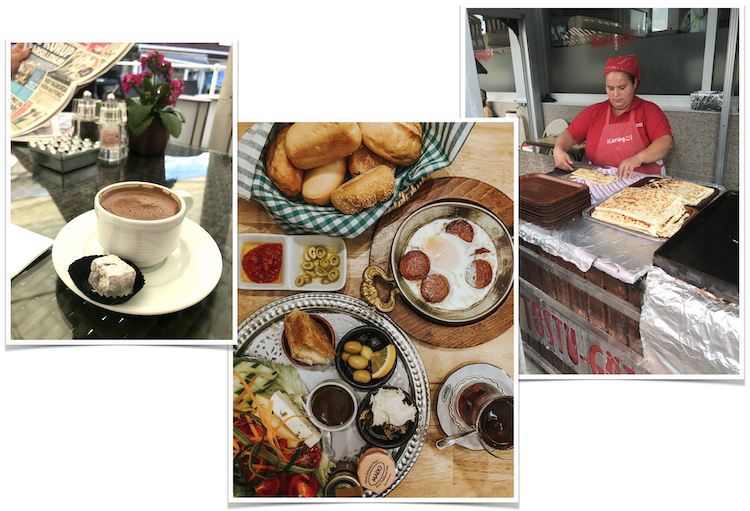 When you inevitably get hungry throughout the day, food is abundant throughout the city. There are many street food vendors with freshly made breads, meats, vegetables, you name it! One of my favorite snacks on a hot day are the fresh almonds served on ice! Another treasured snack is a thin phyllo-like pastry called "gozleme". Often you will see older women sitting around a large heated disk making these delicious treats by hand. They come with all sorts of savory fillings, so it's easy to find a favorite. If instead you are lucky enough to land earlier in the morning, a traditional Turkish breakfast is not to be missed! There is always an assortment of fresh cheeses, sausages, pastries, fruit, breads, olives, yogurt, and more served alongside our traditional chai (tea) or kahve (turkish coffee).
4. Visit the Palaces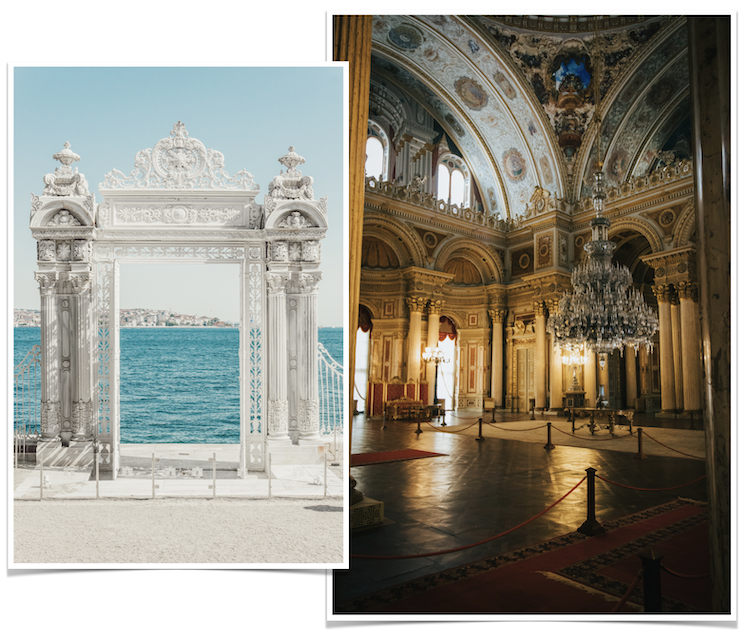 One of the most famous Palaces in Turkey is Topkapi palace. While it is absolutely incredible with its vast grounds, rich history, and unbelievable artifacts, my favorite has always been Dolmabahce Palace. Nestled on the Bosphorus, within the bustling Besiktas district, the white and gold gates encapsulating the grounds evoke feelings of grandeur at your very first glance. Created as a modern alternative to Topkapi for the Sultan and his family in the mid 1800's, it is the largest palace in Turkey and is known for its vast gardens and opulence. This palace is not as popular as Topkapi, but I promise you will not be disappointed!
5. Enjoy the Gardens between the Hagia Sophia and Sultan Ahmet Mosque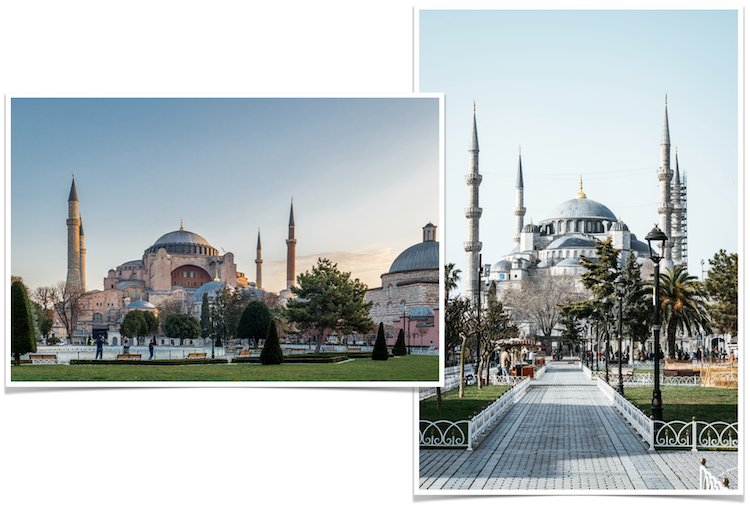 While many people will be gathering to take tours of both Mosques (which I do highly recommend), enjoying the gardens between the two is a welcome break from the crowds and lines. I have many fond memories of running around the fountains and flowers while my parents took a break and sat on the onlooking benches. It is absolutely beautiful and, because you are not always able to take pictures within the mosques, a phenomenal photo op for your travels.
6. Cool off in the Basilica Cistern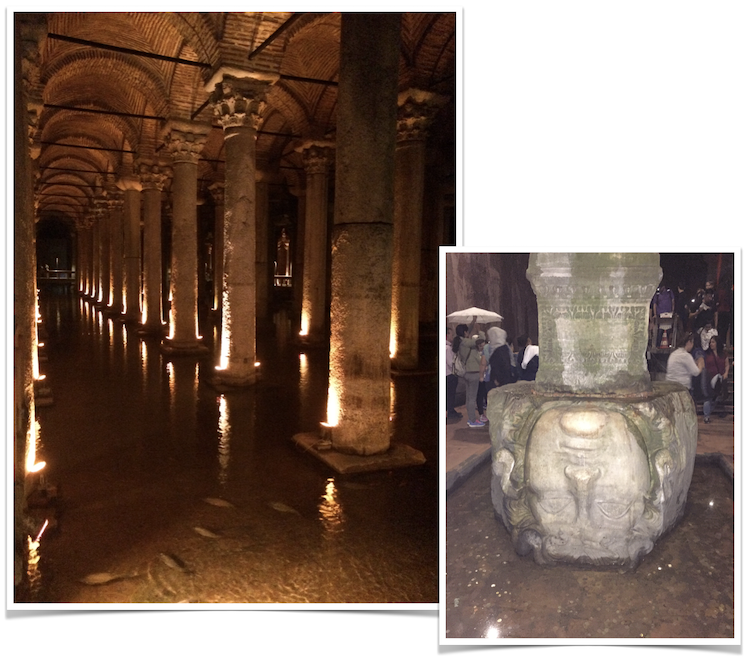 Just a short walk away from the mosques is the Basilica cistern which dates back to the 6th century! The sheer age of this place is a wonder in inself, until you see how massive it really is. The whole area is about 105,000 sq. ft. Though dark and damp, the pathways are lighted and some fish can still be seen swimming through its waters. The highlight of this place are the incredible medusa heads at the base of two columns. Said to be turned and inverted to divert the gaze of the gorgons, these statues are not to be missed!
7. End your day in Taksim Square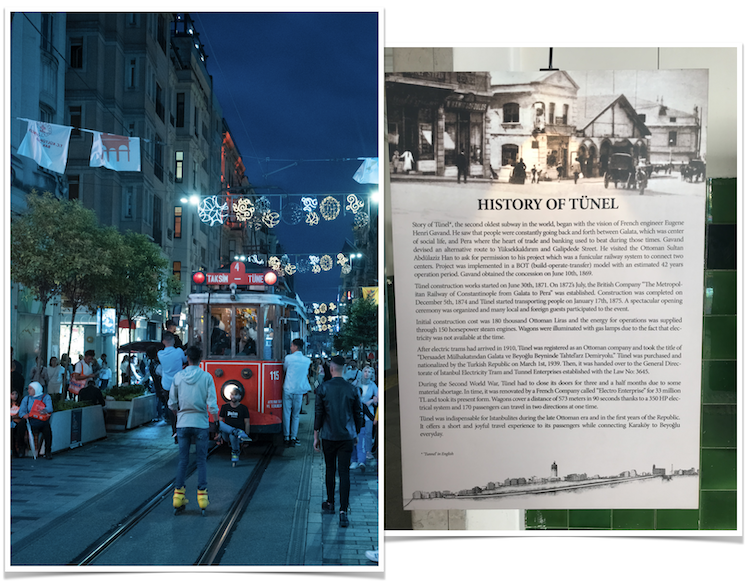 After a long day of walking around the city- I suggest more walking! Taksim square is famous for its shops and restaurants, and is filled with young people and a bustling nightlife. You can even save yourself an uphill walk, and take the Tünel – the second oldest tram in the world! Taksim is widely considered the heart of modern Istanbul. If you find yourself here in the evening, allow yourself to be immersed in the hospitality Turkey is known for, and best of all- have fun!
Immersed in a culture where ancient meets modern, there is something in Istanbul for everyone. History, food, shopping, water, and more. You'll always find something new to discover. Whether you're taking a full vacation to my favorite country in the world, or just a short trip to occupy some time between flights, Istanbul is a city that will never leave your heart.