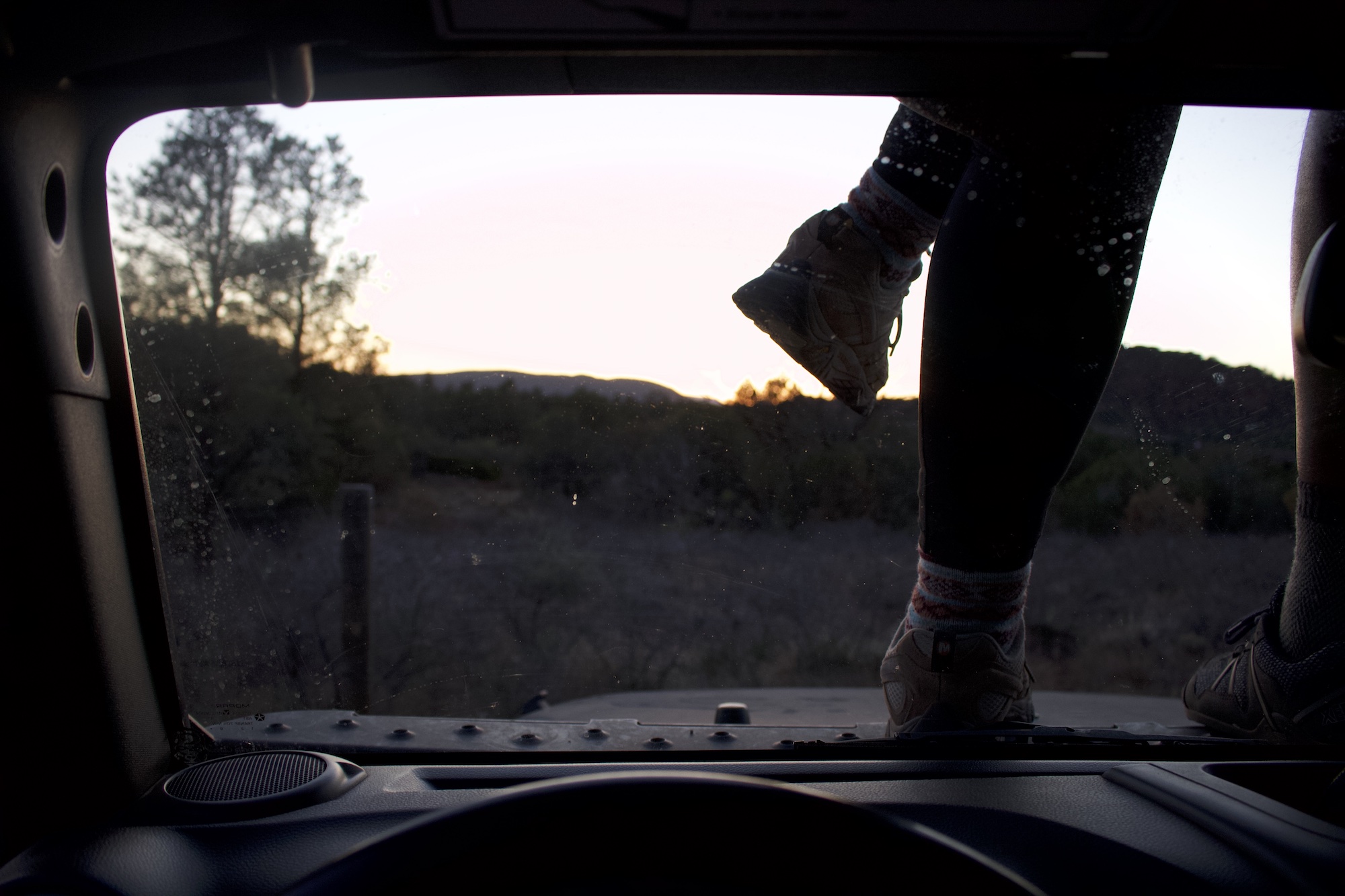 28 May

Wanderlust: Arizona

The southwest has always been somewhere I knew I wanted to explore. So, when my boyfriend and I were invited to visit his family in Phoenix, we jumped at the opportunity. Neither of us had been to Arizona, and we were thrilled with the idea of hiking, camping, and exploring the natural wonders. Fully vaccinated, and masked up anyway, we felt mostly comfortable on our flight. Minus some rather intense turbulence, the flight was smooth sailing.

Our plan was to hike each morning before the crowds started building up and exploring the city and restaurants later in the day. However, I did not anticipate beginning our hikes by 6 am!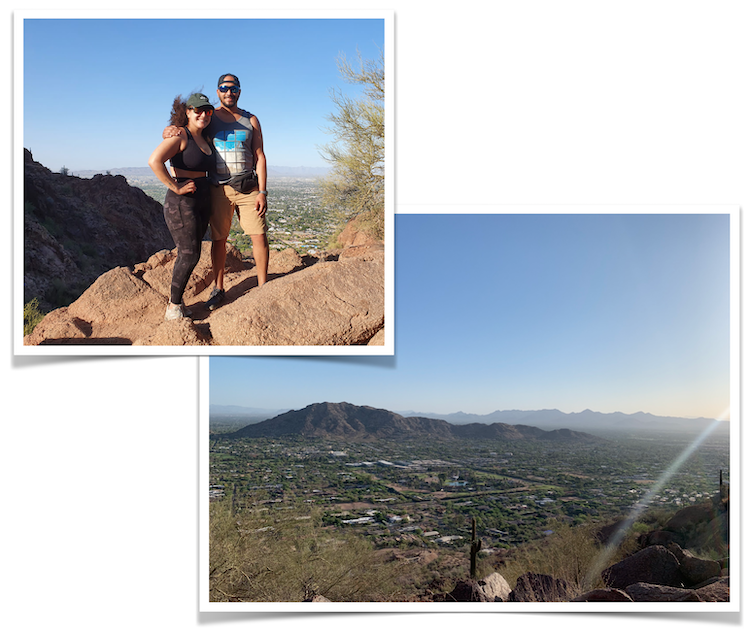 Camelback Mountain is the highest peak in Phoenix. It was a huge challenge getting up there (I haven't rock climbed since I was a child). Out of the 6 people who started the hike, only 4 people in our group made it to the top- including me! Despite the early start, the views were most certainly worth it!
After a couple days in Phoenix, we got to experience the magic of Sedona. We camped out at night with the most beautiful stars. Sedona is a low light city, and therefore the lack of light pollution gave way to an incomparable night sky.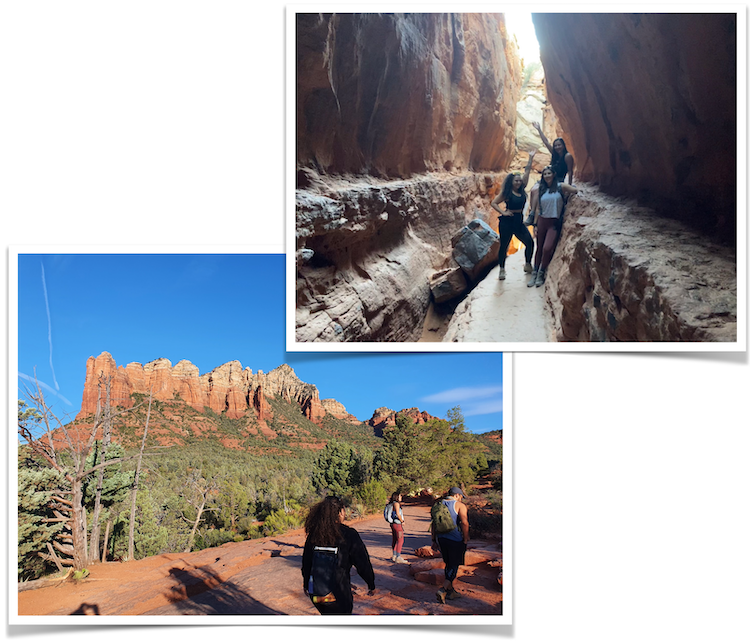 Our first hike was to Soldier's Pass, which was ultimately my favorite hike. We got there early enough to spend time in the cave and take pictures- all before it got too hot!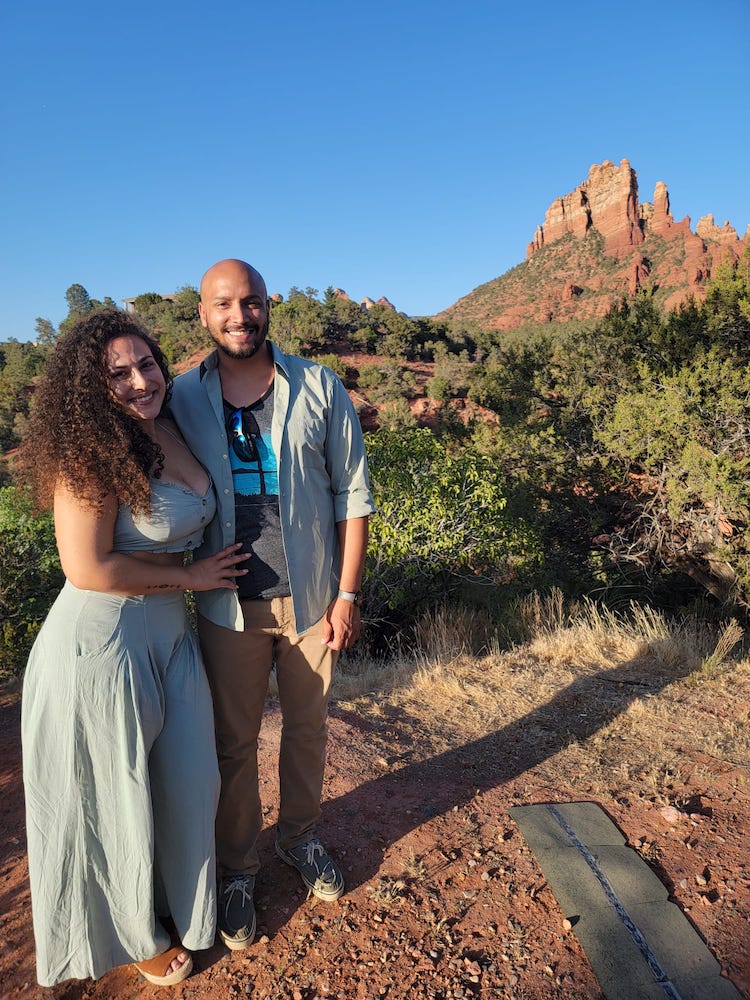 Dinner in Sedona was also a treat! Believe it or not, we took these stunning photos right outside the restaurant. To top it off, the food at The Hudson actually rivaled the views!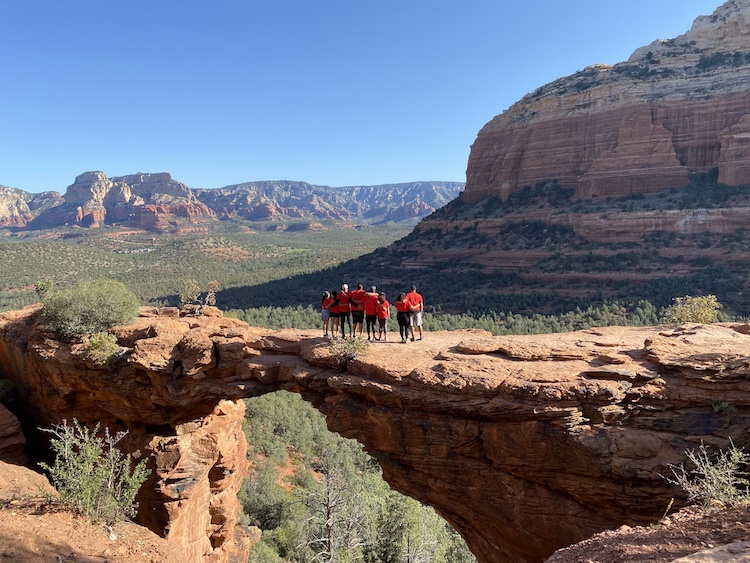 Devils Bridge was probably the most difficult for me, as I struggle with a fear of heights. Thinking back on it, it was absolutely worth it. It's hard to imagine feeling more immersed in the wonder of nature. Never in my life have I experienced a place more naturally awe inspiring.
That afternoon we explored an arts and shopping village called Tlaquepaque. "Founder and visionary Abe Miller built Tlaquepaque over 40 years ago. His dream was to create a village in Sedona reflecting the flavor, sights and sounds of Old Mexico. Here he would showcase gifted artists, artisans, and makers of fine handcrafted goods, while inviting collectors, lovers of art and visitors the world over to discover the treasures within its walls." The one of a kind pieces, antiques, and handcrafted goods were so much fun to explore.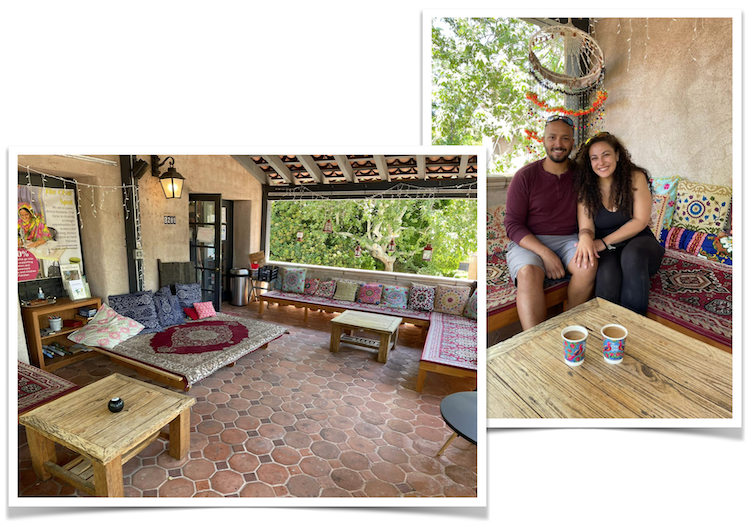 This place, aptly called The Chai Spot, had some fantastic traditional chai and even some delicious hazelnut lokum (turkish delight)! Being turkish myself, I know what I'm talking about!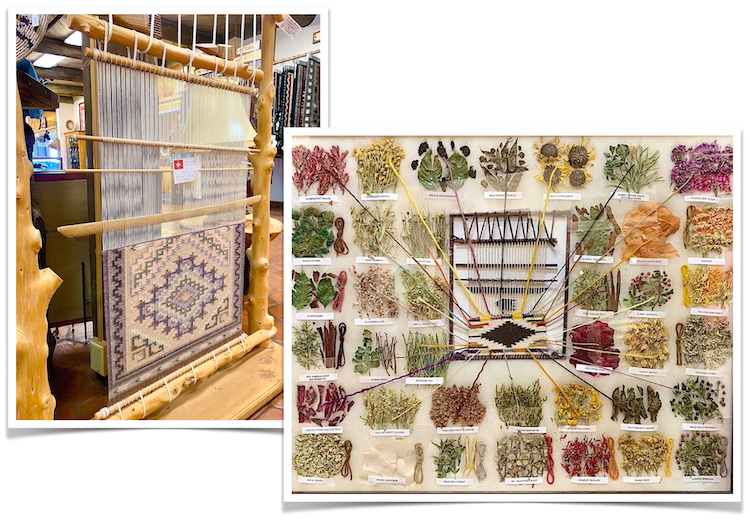 We also stumbled upon Garland's Navajo Rugs, which couldn't have been more beautiful. To see the different plants used for dyes and methods used for weaving traditional Navajo rugs was both educational and inspiring.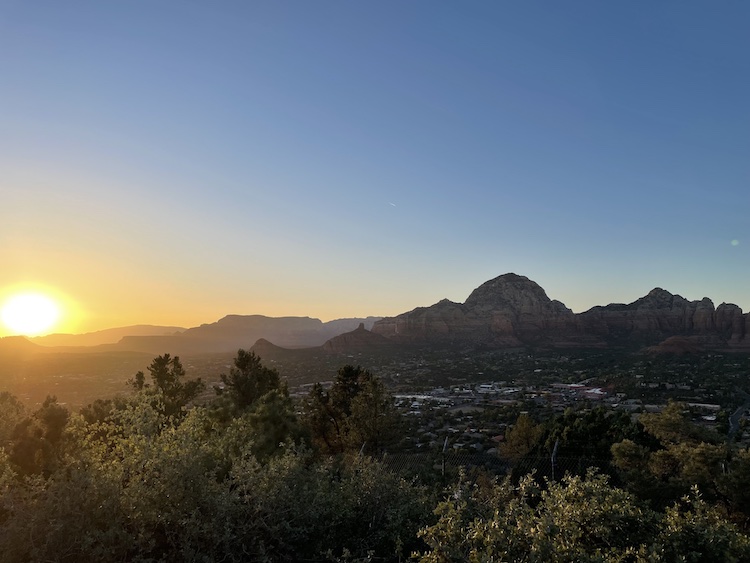 We had planned on a sunset hike that evening, but had to settle for sitting on top of our jeep. The parking lot for the trail was completely full by the time we got there. Nonetheless, the sunset that evening was almost as spectacular as the morning hike. The views never ceased to amaze me.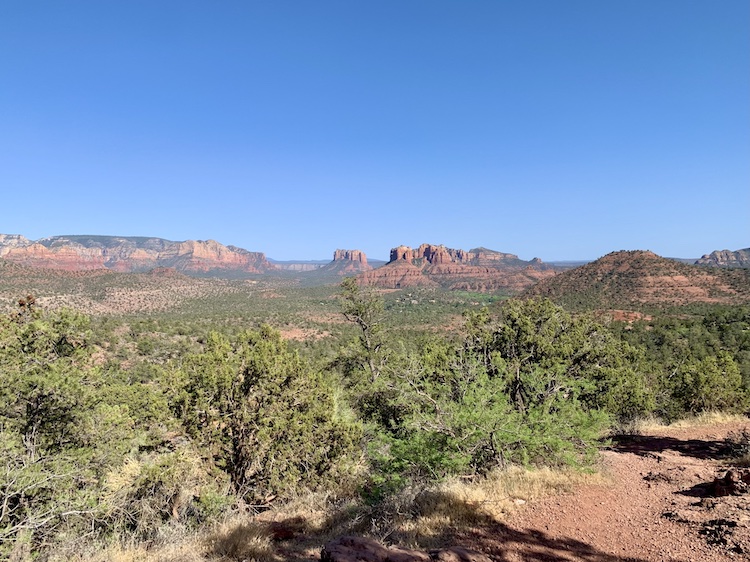 Our last day in Sedona, we rented ATV's and went exploring! To be honest, I originally envisioned this excursion to be full of desert and dust. The invigorating ride gave me an adrenaline rush I'd never experienced before.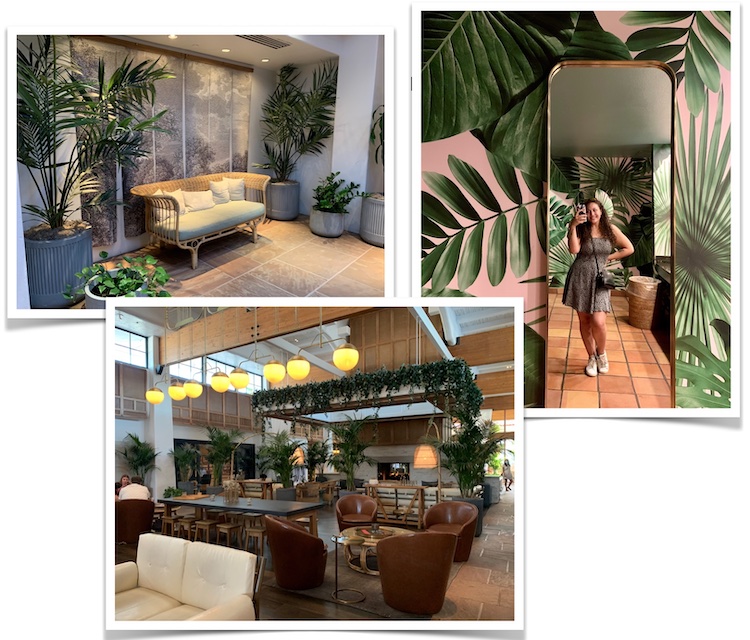 We had one final evening in Phoenix after coming back from Sedona, and The Canal Club was the perfect way to enjoy it. This place spoke to my design aesthetic- upscale boho, lots of texture, plants all around, and mirrors galore!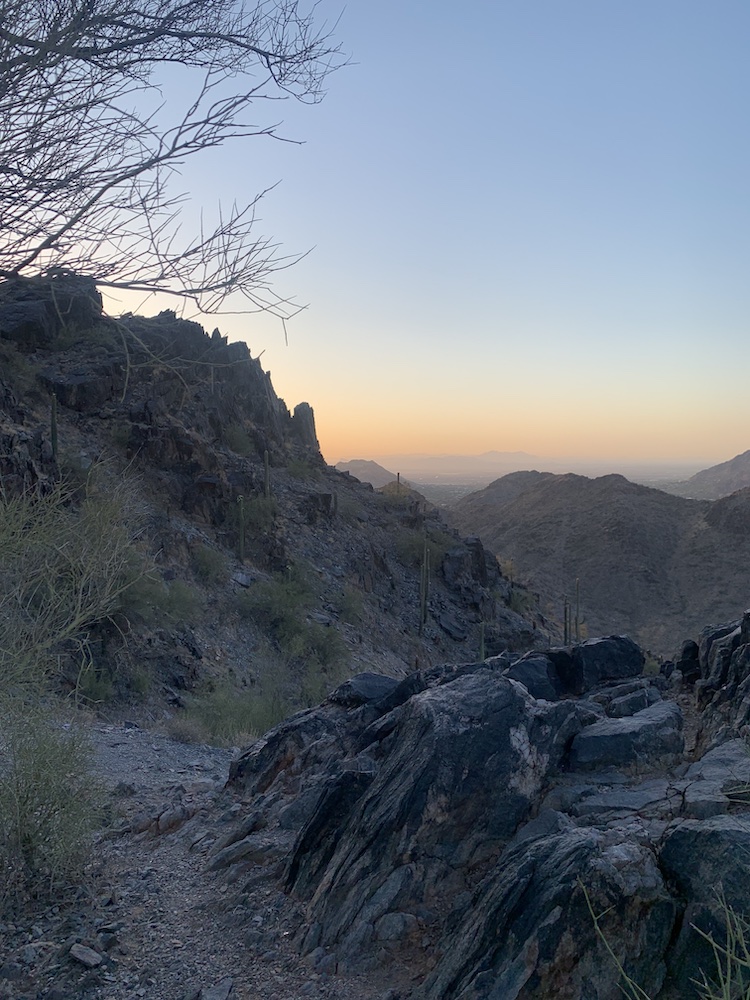 We wrapped up the trip with a sunrise hike to Piestewa Peak. The hike was full of jagged rocks and cacti, but looking out at the landscape as the sun began to peek out behind the mountains, the only thing I felt was peace.
To say this trip was amazing, simply doesn't cut it. There was so much more to appreciate than I ever could have anticipated. I most certainly will be going back. If you have the opportunity to visit and immerse yourself in the natural wonders, you absolutely must!
Any exciting trips planned? We'd love for you to share your #wanderlust!