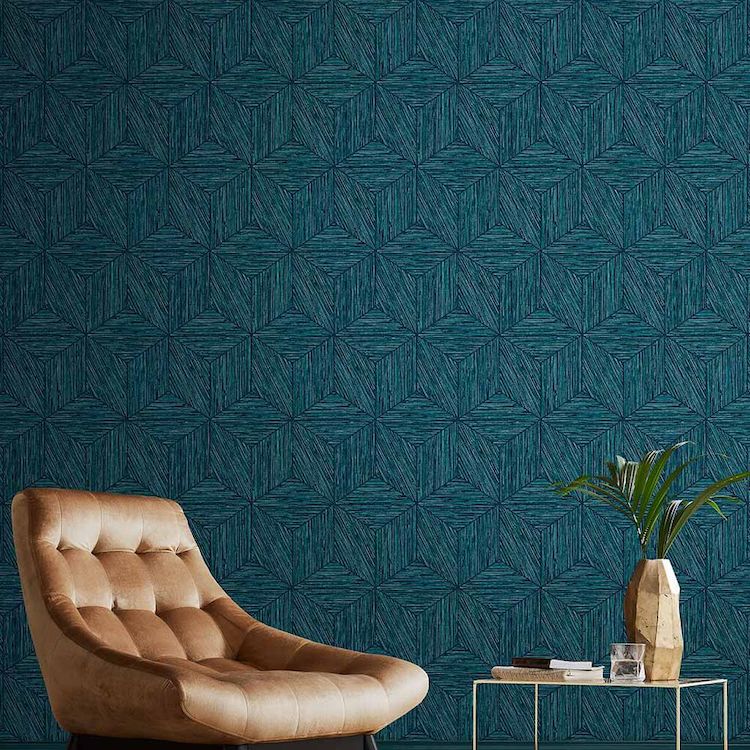 19 Jun

The World of Wallpaper

There was a time where the word "wallpaper" would be synonymous with dated spaces, peeling seams, and kitschy prints. Gone are the days of tacky temp papers, enter the new sophisticated world of wallpaper! These days there are a plethora of good options when it comes to decking out your walls. In fact, sometimes there are too many options!

The right wallpaper can completely transform your space, whether it is subtle and classic or bold and eclectic! We wanted to give a run down of some wallpapers that have inspired us, and also explore a few different types to consider.

Bold Patterns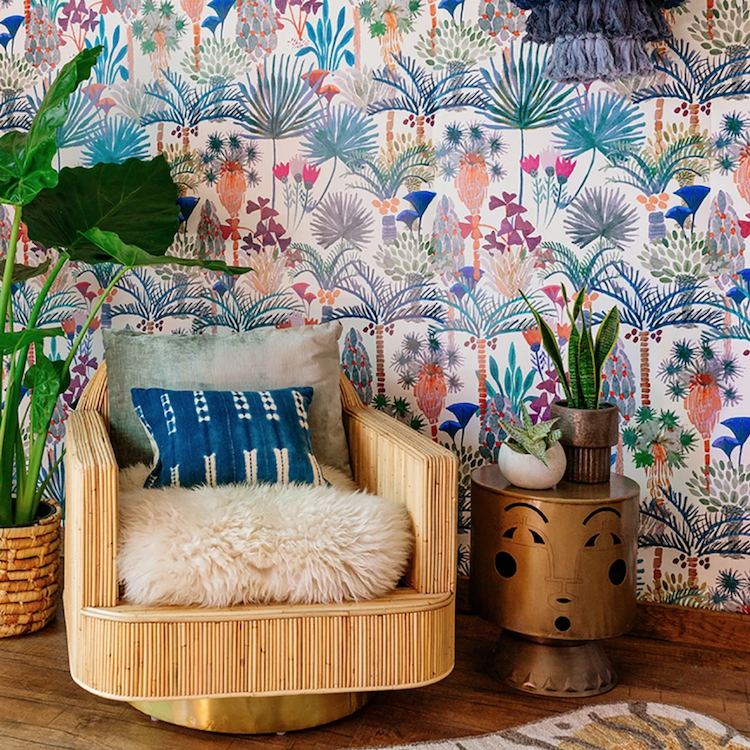 Bold wallpapers can give life to an otherwise flat space. They bring out the personality of the homeowner and make a big statement. Busier prints, such as this one, can be utilized in large rooms to give a huge impact. They are also special in smaller spaces such as powder rooms to pack a colorful punch. If enveloping your room in a print feels like a little too much, consider an accent wall! It can create a focal point and pop of color, without feeling busy. There are also many exciting patterns to choose from! Don't be afraid- the right one for you is out there!
Temporary Paper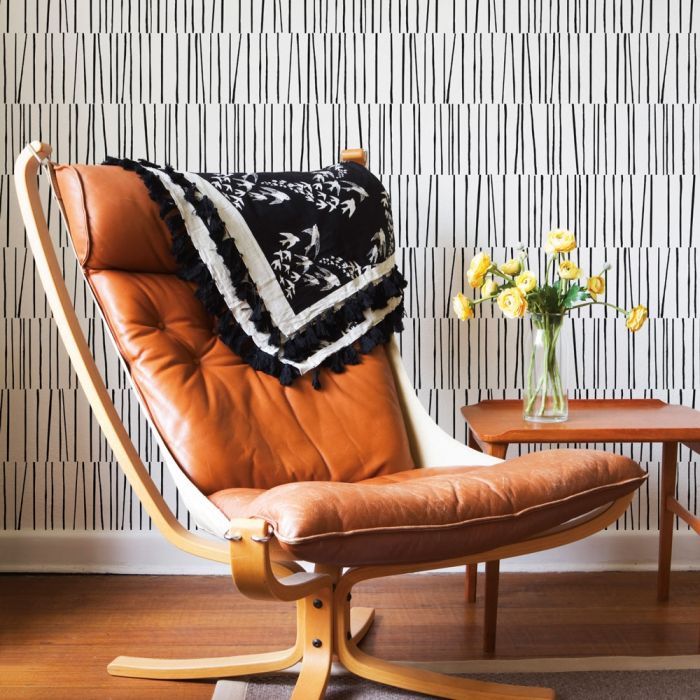 For those who are afraid of commitment, or are renting a space, temporary wallpaper can be a lifesaver. Easily installed (and removed), available in almost as many options as traditional wallpaper, temporary paper is a trend we believe is here to stay. Simple graphics like this one can give a cool visual effect to a space without overwhelming it, and work with a multitude of different styles. Temporary paper is often not as expensive as traditional wallpaper so, as your taste changes your wallpaper can too!
Grasscloths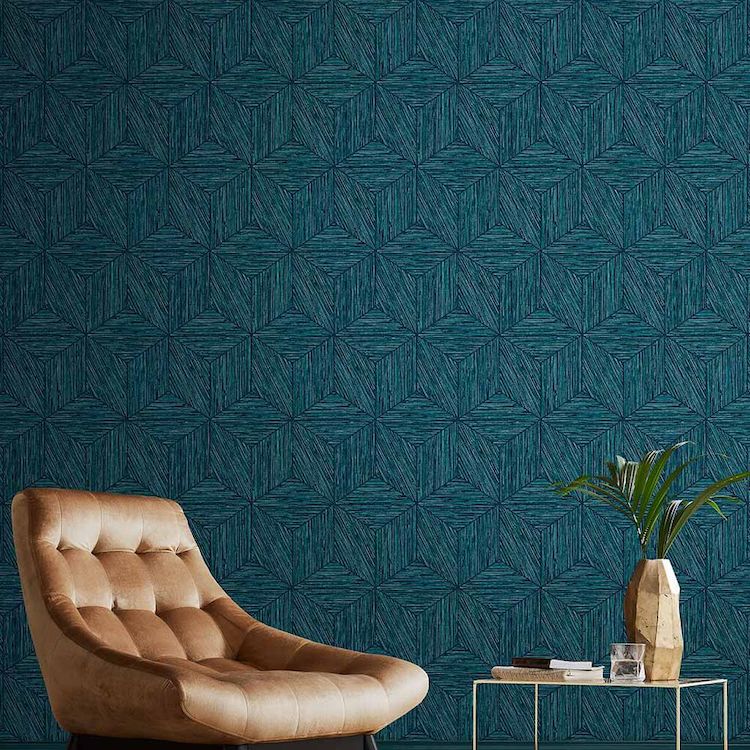 Grasscloths have been around for a long time, and are commonly associated with sophisticated spaces that incorporate texture and visual interest. However, there are many more options than just the simple horizontal striation! Geometric patterns and imagery are beginning to emerge as a newer trend in grasscloth, and we are loving it! This rich grasscloth gives an almost tiled effect, while maintaining the well known texture, and saturating the space in a deep, dimensional teal.
Vinyls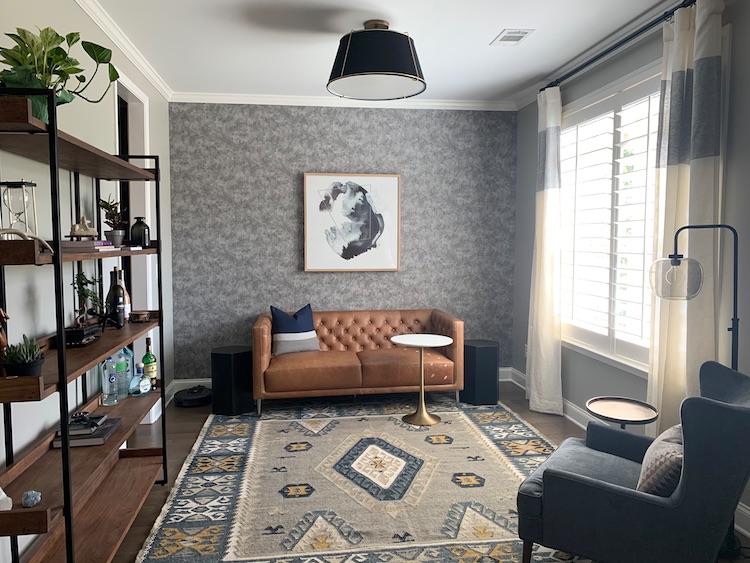 Not all wallpapers are created equal. Some, need to be able to stand up to serious wear and tear. This is where vinyl wallpaper comes in. Easily cleaned and more resistant to humidity than traditional wallpaper, vinyls have opened up the opportunity to use wallpaper in rooms you wouldn't have thought of. They have also come a long way in their beauty and texture. We loved incorporating this plaster texture into a clients sitting room. Then, if anything spills (or fur babies have a little too much fun) it can be wiped away without a second thought. Consider using vinyls in bathrooms, kids rooms, or any unexpected place you think could use a pop!
Classic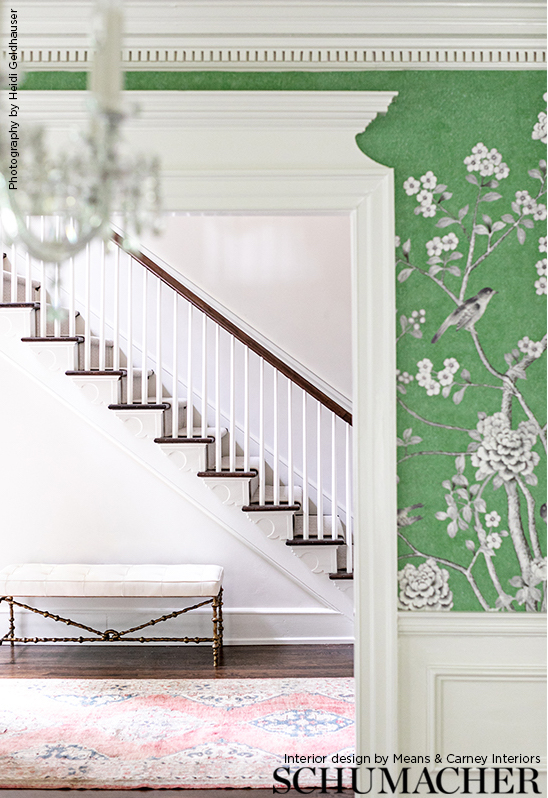 Last but certainly not least, is the classic style wallpaper. Evoking feelings of grand parlours, with hand painted chinoiserie scenes, this traditional paper is here to stay. Modern interpretations of antique patterns are bringing together the old and the new in ways our grandmothers wouldn't have dreamed of!
There are so many wallpapers available that sometimes choosing just one can feel daunting. Our suggestion is to determine which type you think will work best with your lifestyle and begin there. Find the one that speaks to you- you'd be surprised at how much of an impact it can make in your space!