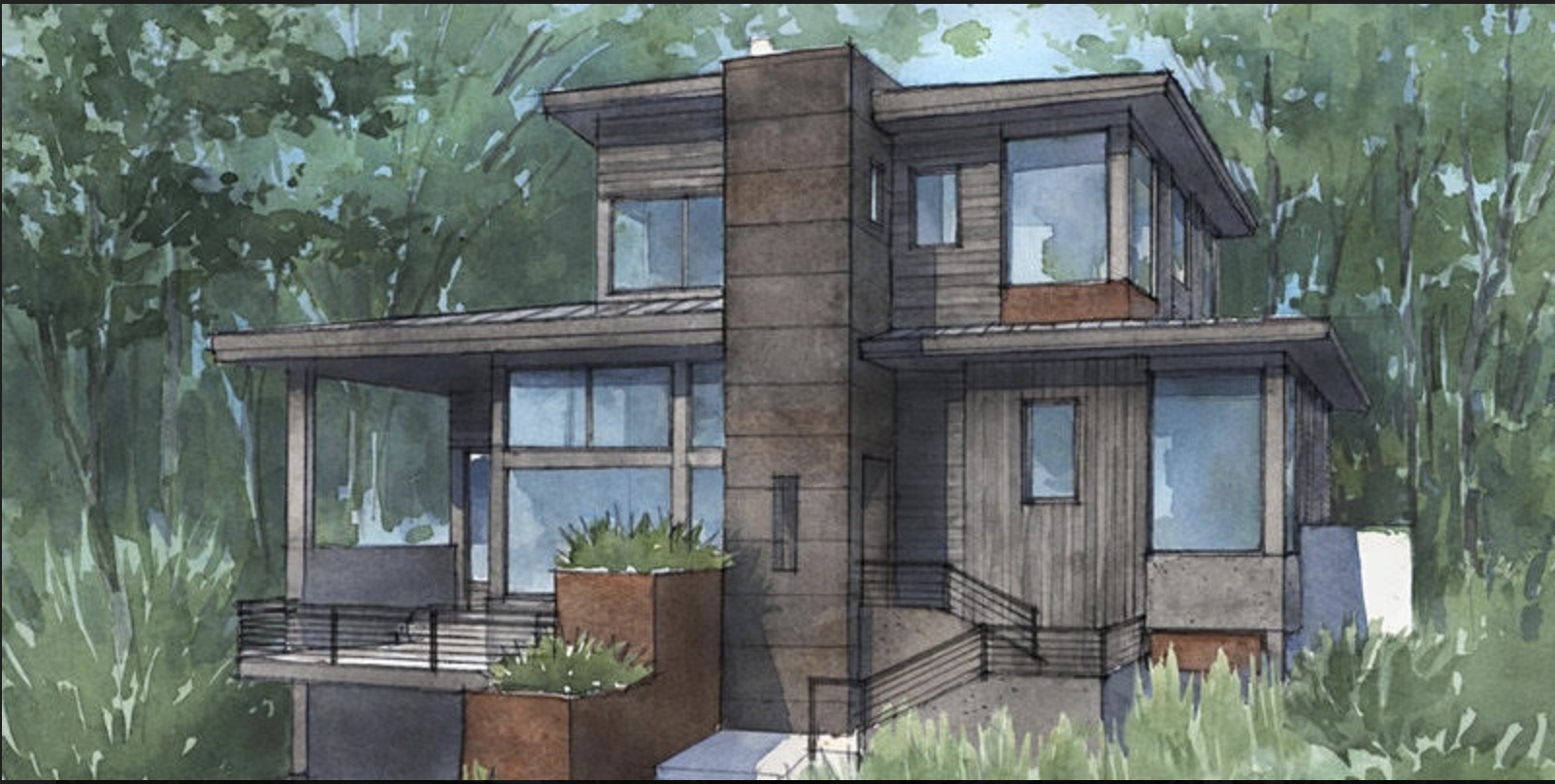 15 Oct

Serenbe Showhouse 2021

By Stephanie Andrews & Jennifer Carter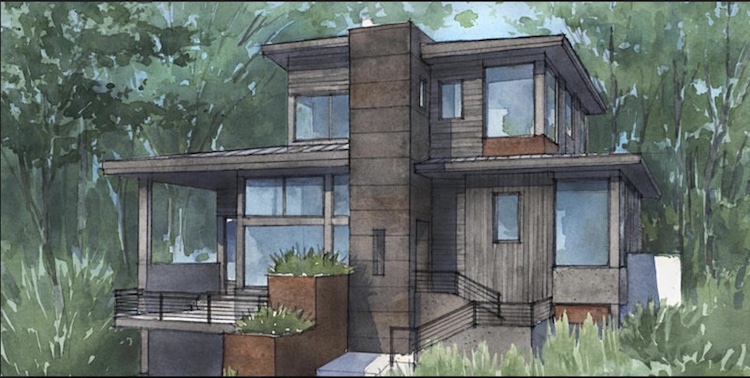 A beautiful glass treehouse nestled in the forest – this year's Serenbe Showhouse is a definitely a showstopper! Located about an hour southwest of Atlanta, this house may be the perfect place to visit for inspiration in your own home this weekend. Twelve talented local designers, including ourselves, individually took on designing a room within, and in return, created a warm, inviting and surprisingly cohesive place to call home. Ideas are plentiful, from a hidden galley kitchen behind the entertaining kitchen, to a stairway that winds 4 levels. The bold tile work in the baths and elegant lighting throughout the home are also sure to inspire! After taking in all of the details in this house, make a day of it and enjoy even more inspiration by meandering through the entire Serenbe community while enjoying this beautiful fall weather. For tour tickets, please visit here.
During last night's Preview Party, we were honored to get some sneak peeks for our readers! We were blown away by the talents of designer, Lorraine Enright of Intuitive Dwellings who selected all of the lighting, tile and finishes throughout this home built by South Haven Builders. We also impressed by the thoughtful and wonderful surprises waiting to be explored around every corner within. Please forgive us for taking more pics of our spaces than others, it happens sometimes! Without giving too much away, we hope you enjoy these glimpses into this remarkable modern home.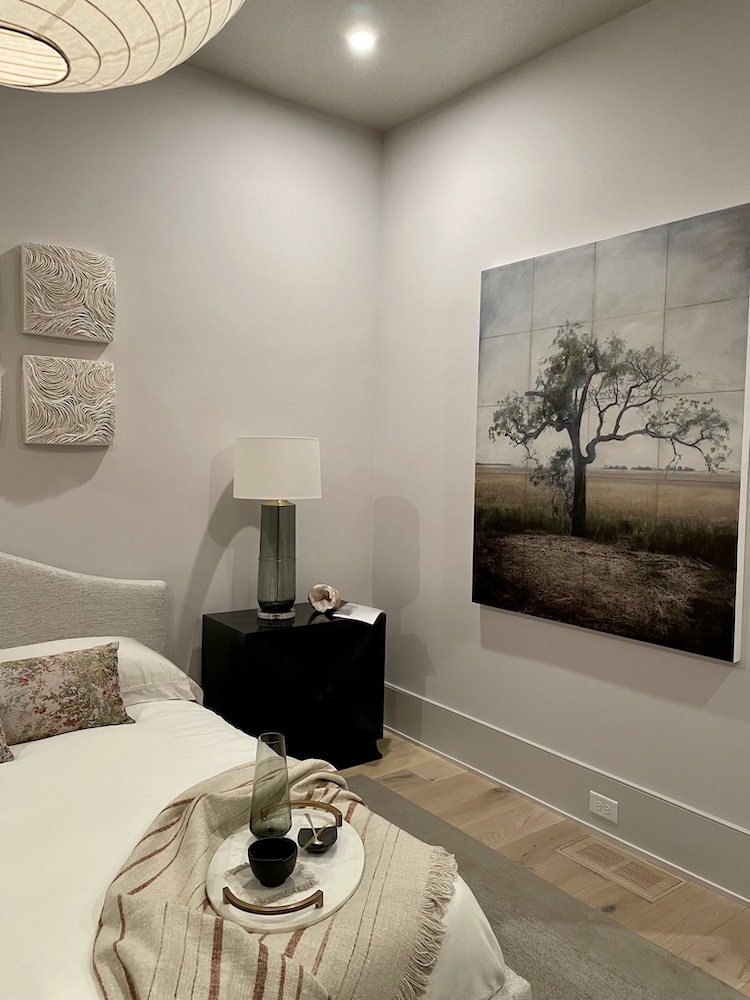 Primary Bedroom & Laundry vignettes designed by Beth Kooby.  We loved the serenity that she created with the slightly lavender walls and beautiful art in the bedroom.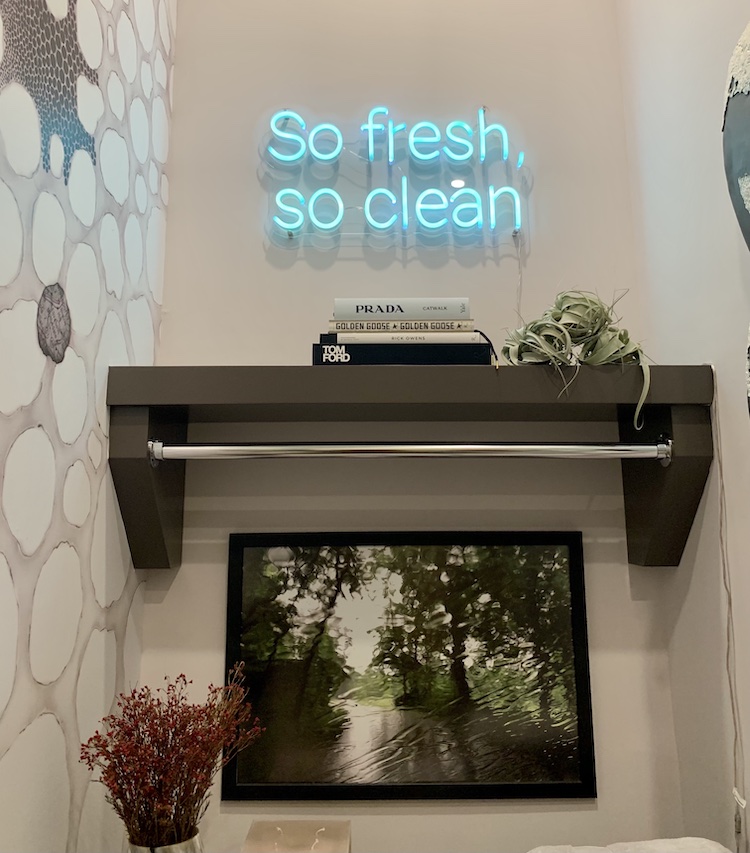 The whimsical lighting used in the laundry room was also a welcome surprise!
Hand Painted wallpaper by Porter Teleo made this water closet by Balance Design unforgettable!
We asked Balance Design's own Jennifer Carter, (lead designer for the Primary Bath and Terrace Level Patio) what inspired her about the home and the Balance Design spaces, in particular.
 "I was truly inspired by the home's clean lines, unique modern architecture and endless views of nature. I wanted to create a space, or retreat rather, that evoked complete relaxation, not just visually, but through all of the senses. The primary bath and patio space, nestled off the back of the home, were already set up to become the perfect Zen oasis. By combining pops of bright color with natural materials like stone, water and wood, my hope was to enhance the space even more. I also wanted to create an endless flow indoors that continued through to the outdoor space as well. Utilizing sustainable materials, along with the talents of local artists and craftspeople, were also foremost on my mind when designing these spaces."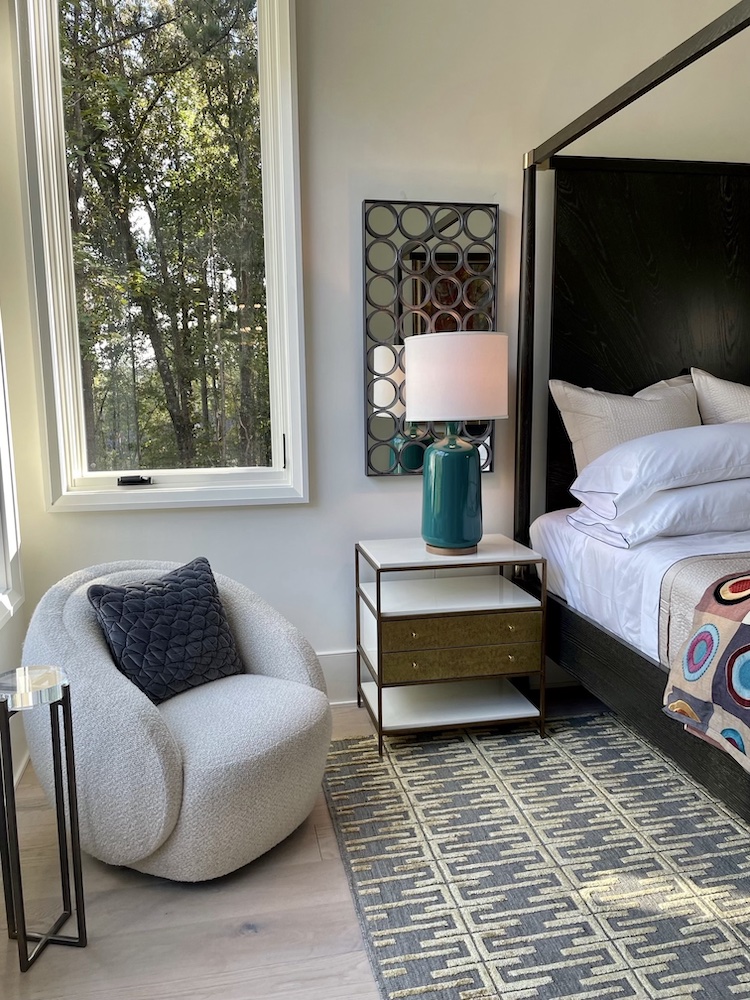 We loved the use of circles and color in the upstairs guest room designed by Susan Currie.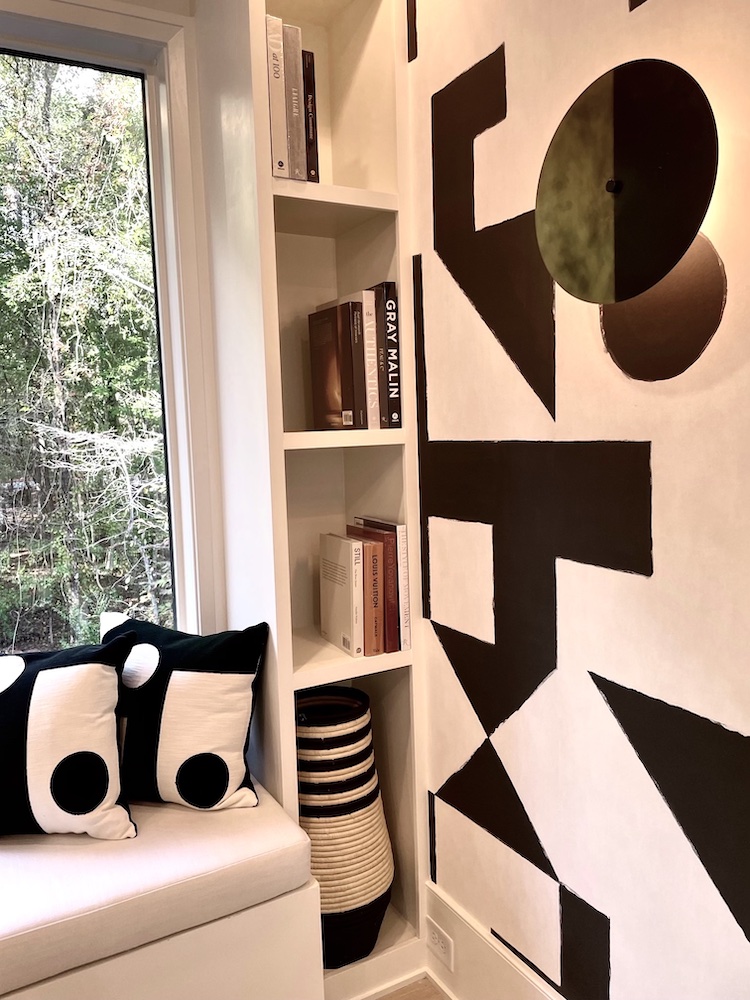 Mister and Mrs. Sharp had such a creative black and white space with modern shapes and plenty of their signature textures.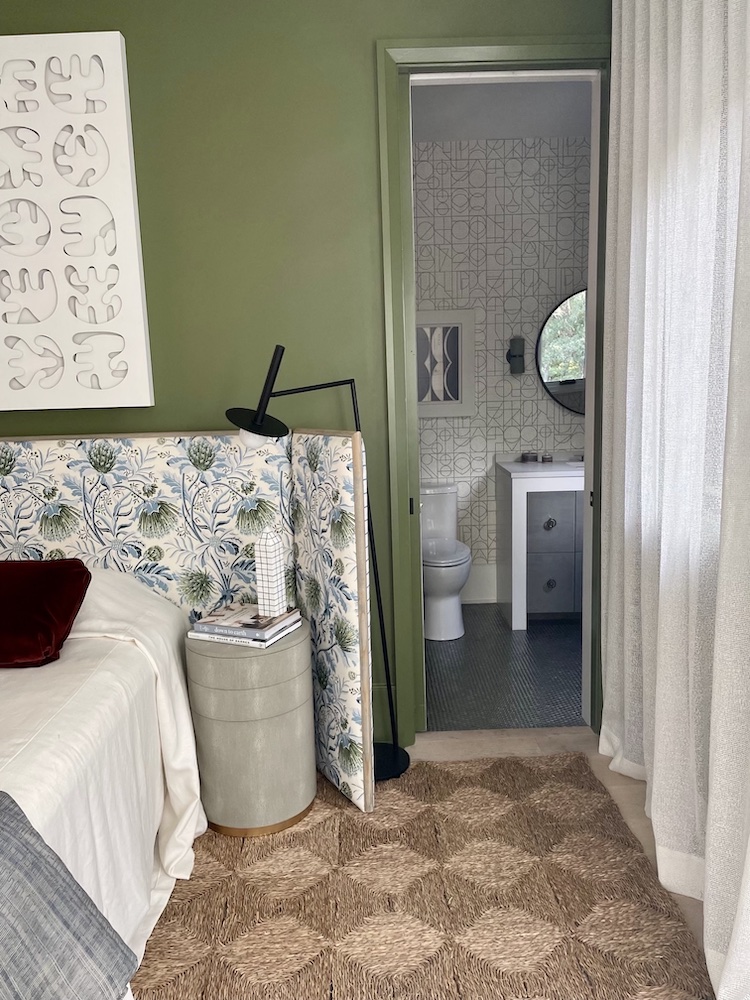 We adored the headboard and guest room designed by Jessica Davis.  Her creative details and colors use made us want to stay for a while in this room!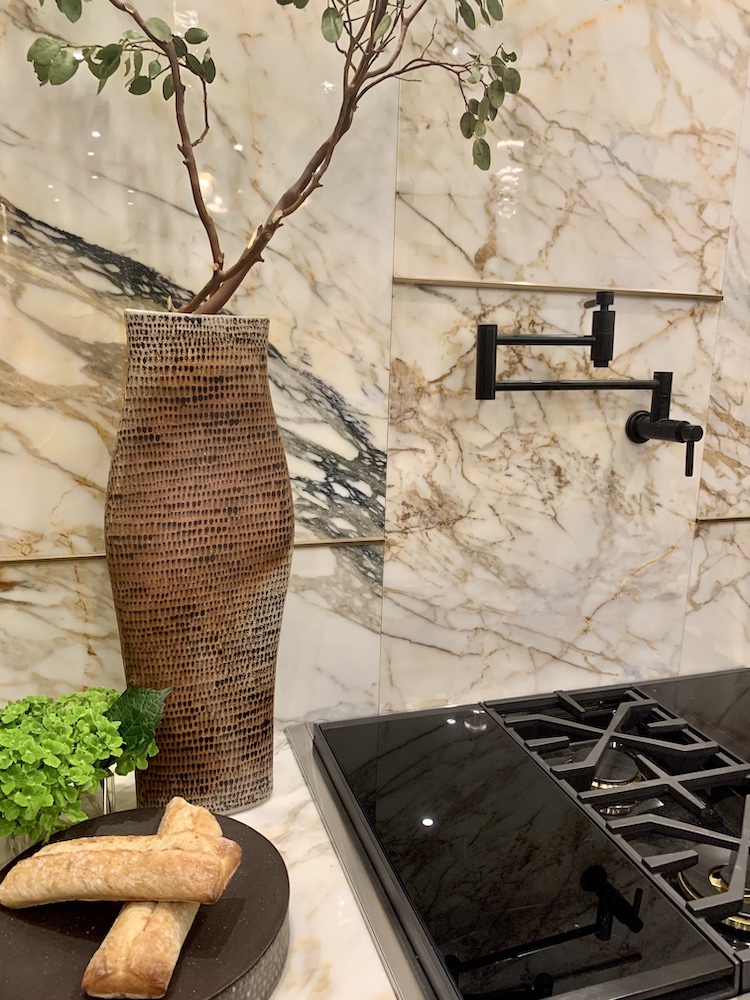 And finally, the combination of textures and natural materials used in the kitchen by lead showhouse designer, Lorraine Enwright are definitely worth pausing for.
We hope that you will get a chance to see the showhouse over the next 3 weeks. You are sure to be inspired by the natural setting of Serenbe and the calm yet exciting designs of this home!