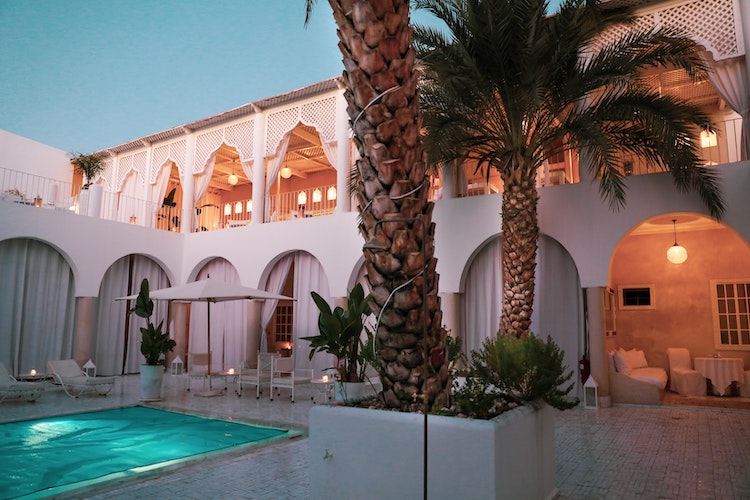 06 May

Morocco: An aspirational Adventure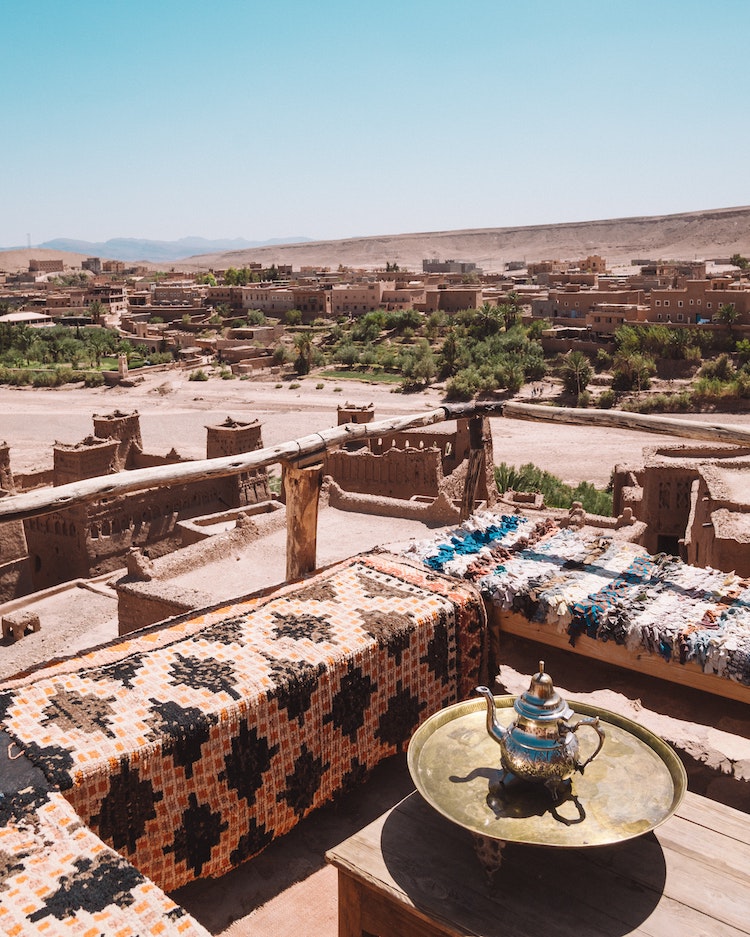 As we travel more in 2022, we thought we would share some spectacular photos of Morocco, as well as some insight to the unique experiences available to those who travel to this area of the Middle East and Northern Africa. Morocco has been an inspiration for travelers, artists, craftspeople, and more for centuries.  As designers, it is hard to imagine a more colorful, lively, and stimulating place. Here are a few highly recommended experiences if you're lucky enough to visit.
Visit a Riad!
 If you are unfamiliar, a riad is a courtyard or garden that is surrounded by a home or palace. They were originally built for royalty and wealthy merchants as a quiet escape from busy city life. The secret oasis will often have tile, a fountain or pool and lush greenery. Typically, these personal retreats are not viewable by anyone except the residents of the home.
Desert Retreats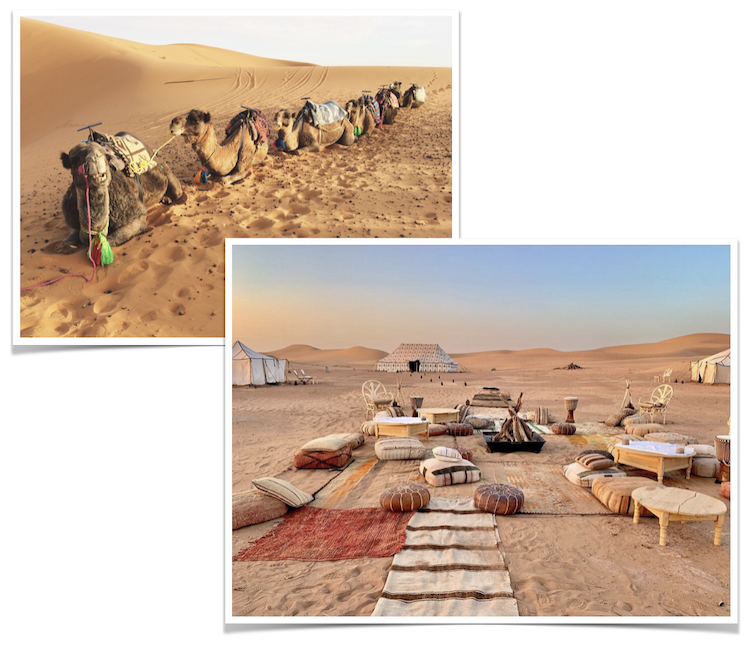 Ride a camel in the Sahara desert on your way to the ultimate glamping experience with huge tents that have beds, handmade rugs and even chefs for the group! Camp Adounia, an eco luxury resort camp, offers unforgettable experiences. The sunsets on the dunes alone are sights to be seen!

Explore a Souk!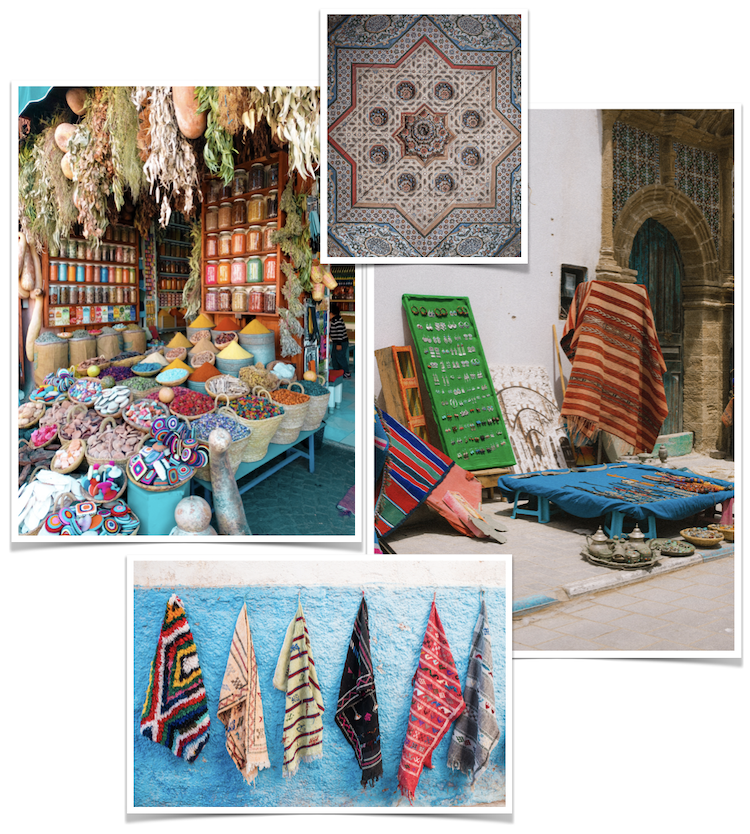 While visiting anywhere in this region, it is essential to visit a local marketplace. Known as Souks, these street marketplaces are host to pretty much everything you can think of. Hand made textiles and tiles, spices, slippers, carpets, pottery, clothes-oh my! Differing from Bazaars in that they are not covered, we'd love to visit a souk in Marrakech or Fez and take in the market as it satisfies all of our senses!  
The Hamam Experience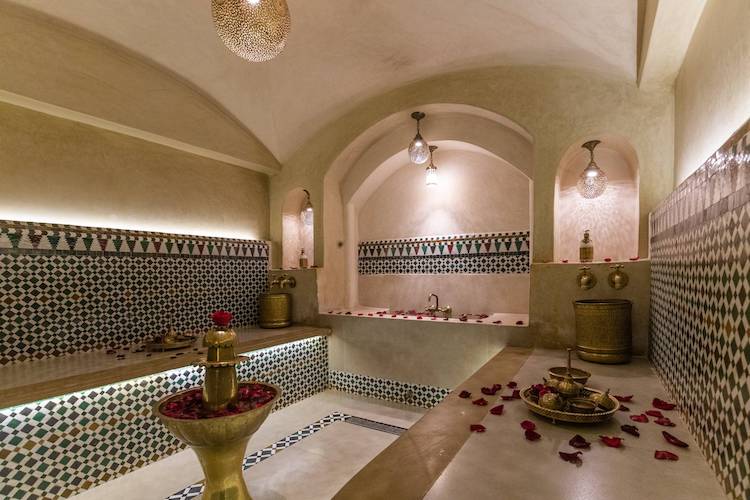 When you are tired and spent, escape to a hamam for a traditional spa experience that could include salt scrubs, steam baths and several other ways to relax. If you choose to go for the traditional treatments, it is a bit more involved than we are used to here, but 100% worth it! The Marajah Spa in Marrakech has a 3 hour treatment option that is sure to have you feeling completely rejuvenated!

We know some of our readers have been to Morocco, and we hope that you will share your photos, tips, and recommendations. Once we've been able to take a trip there, we'll be back to share all we've learned!