20 Mar

Mindful at Home: 6 Ways to Enhance Your Time and Space

By: Stephanie Andrews

There's no getting around how important it is right now to keep safety at the forefront of our minds– safety for ourselves and for others.  As so many of us stay indoors to prevent the spread of COVID-19, it may feel unsettling to have your daily routine turned upside down and your physical world reduced. If you're a creature of habit looking for ways to create a new schedule or just need help taking a step back from a stream of constant uncertainty, we have a few suggestions that you can do in your own home

1. Read (or re-read) and implement: "The Life-Changing Magic of Tidying Up: The Japanese Art of Decluttering and Organizing" by Marie Kondo

I read this book in one sitting when it first came out, and I think it's time for another go with it. Organizing, taking stock of what I have, and donating things I do not want or need isn't something I usually make time for. Now as I am forced to pause and simply BE in my space with everything, I find myself more open to the process. Plus, I love the feeling of opening a freshly cleaned and sorted closet, fridge, and pantry.

2. Finally read that pile of books.

Here in Atlanta it has become porch weather, although the pollen has also joined the party. After giving my outdoor spaces a good sweeping (and maybe a bit of hosing down), I'm dedicating some time to get comfy on my porch swing and settle in with a good book. This world is tough right now; spend some time in another world instead.

3. Edit your bookshelves, give a room an accent wall, or create a new art wall.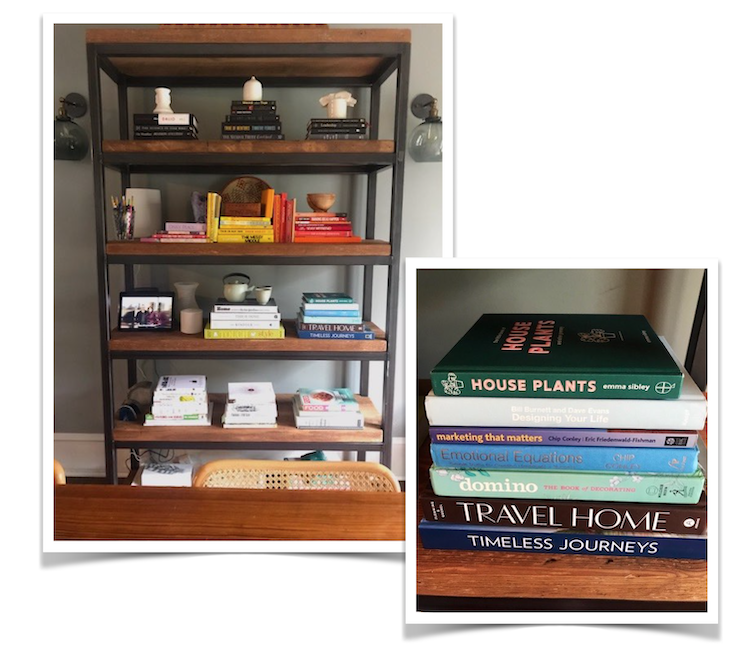 Take on a small project you can be proud of. We're happy to consult remotely if you have a question or need a suggestion! I had a moment of pure bliss when I removed everything from my dining room bookshelf, edited down the books and accessories, and color coded the remaining items. With less of a rush to get everything done, allow yourself to enjoy the process as much as the result.
4. Do a puzzle, play a card game, draw in your sketchbook.
This works whether you're solo in a studio apartment or navigating a home full of family. One of our favorite artists, Courtney Khail says "People constantly tell me that they are not creative . . . but I have NEVER once heard someone tell me that they can't color. So . . . I made y'all a few coloring book pages." Take this time to explore your own creativity! For me, it's a way to reconnect with my husband and teenage daughter by doing some fun activities as a family. We choose one activity each day so it's not overwhelming –  it's enjoyable!
5. Make your bed!
Little rituals give structure to daily life, and making the bed is one of the simplest ways to signify the start of another day. I find serenity in turning tousled sheets and blankets into a neat and tidy display of crisp bedding and comfortable pillows. Plus, what greater reward at the end of the day than pulling back a tightly tucked corner and sliding into an envelope of soft sheets?
6. Spend time in Nature.
Walk, weed the garden, do yoga on the deck, whatever you need to do to get out of the house (safely), soak in the vitamin D, and move your body. This beautiful outdoor space we designed last year with a beloved Druid Hills client and Plants Creative Landscapes in Decatur. It's quite a gift to be able to sit, eat outside, and enjoy your personal spaces.
We'll do our part to navigate the present uncertainty with a sense of purpose and mindfulness, and we ask you to stay the course with us. Share your plans, your projects, and your thoughts with us – we're in this together. Stay safe, stay happy, and know that this too shall pass.