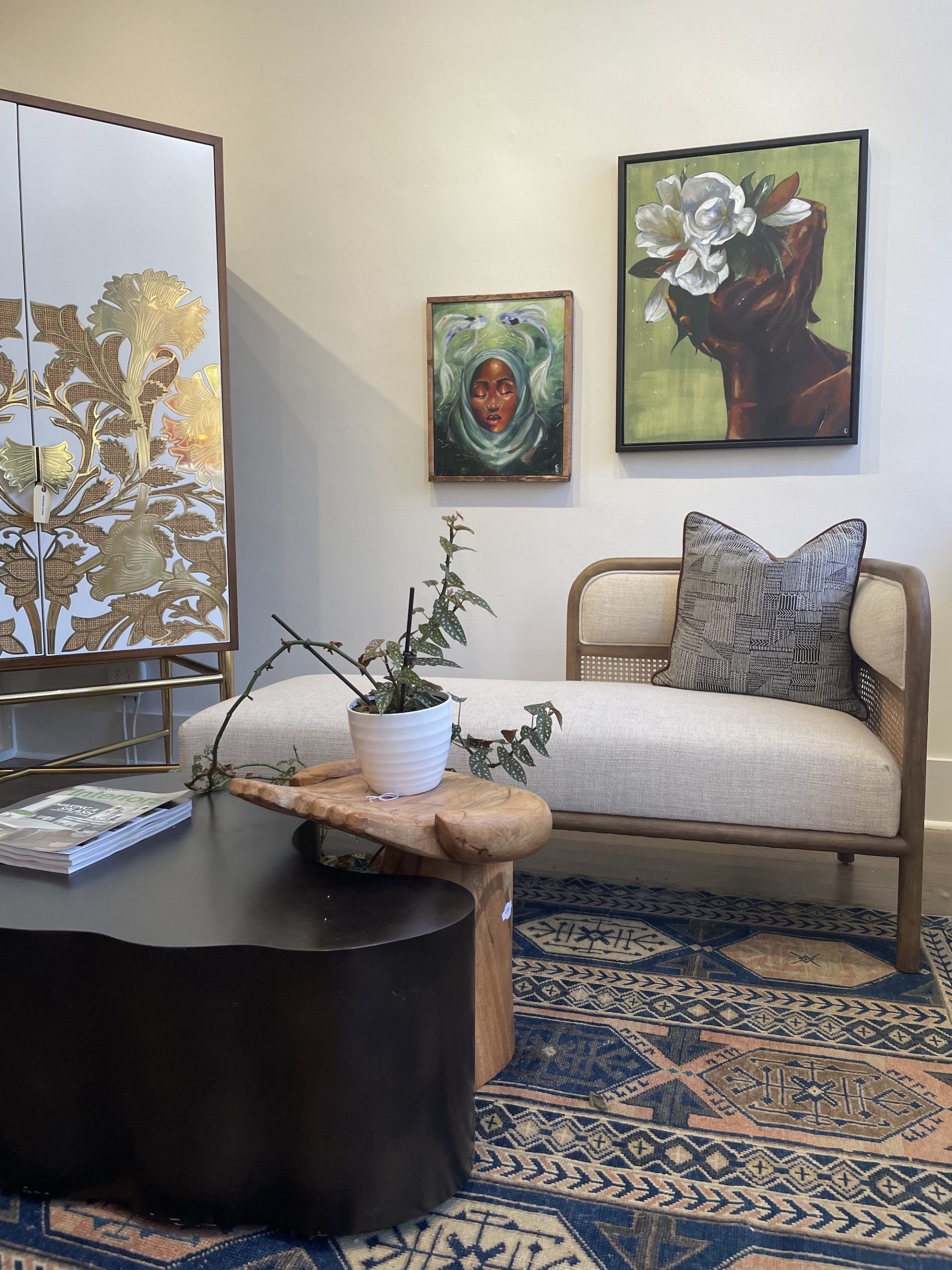 05 Nov

Just Her: A Balance Design Open House

As social gatherings were forever changed with the pandemic, we were unable to host our bi-annual open house over the past 3 seasons. When we realized we might be able to pull one off this fall, we were elated! However, we knew things would have to be different. Cramming 100-200 people in our studio on a cool fall evening felt a bit too uncomfortable, so we decided that creating an all day event- complete with cider, cookies and most importantly, local artists- would be the best way to go about it. We invite you all to stop by at your convenience and spend a short time checking out the new collection and speaking with the artists and designers, Friday November 12, 12-7 pm.

The concept for our fall opening came about in a different way than we were used to this time around. In past shows, we'd do extensive searches for artists we felt could exemplify the feeling of the collection we were putting together. However, as we've had changes to the team, studio, processes, and our lives and we reevaluated what we wanted to share through this collection. This time around, the artists we chose to work with were people who we'd cultivated our relationships with outside of the concept of the open house. We'd long been admirers of Briana Gordon's work, and Jen Boaz we met one day when she happened to wander into our studio. Lastly, Ivy- creator of Designs by Abena- happens to be the sister of our very own Marilyn Buamah. Once we realized that we had brought together this incredible, talented, and diverse group of women, we knew this open house needed to showcase that. We began with inspiration from some of the pieces we'd seen by Briana and Jen, and took our time to curate a space that embodied femininity, strength, creativity and groundedness. This show was certainly a labor of love, and challenged us all to collaborate to create something that spoke to each and every person involved. We went through many rounds of revisions, and took quite some time to settle on our name. In the end, simplicity and authenticity were the the deciding factors. Through that process, Just Her: A Celebration of Women was born.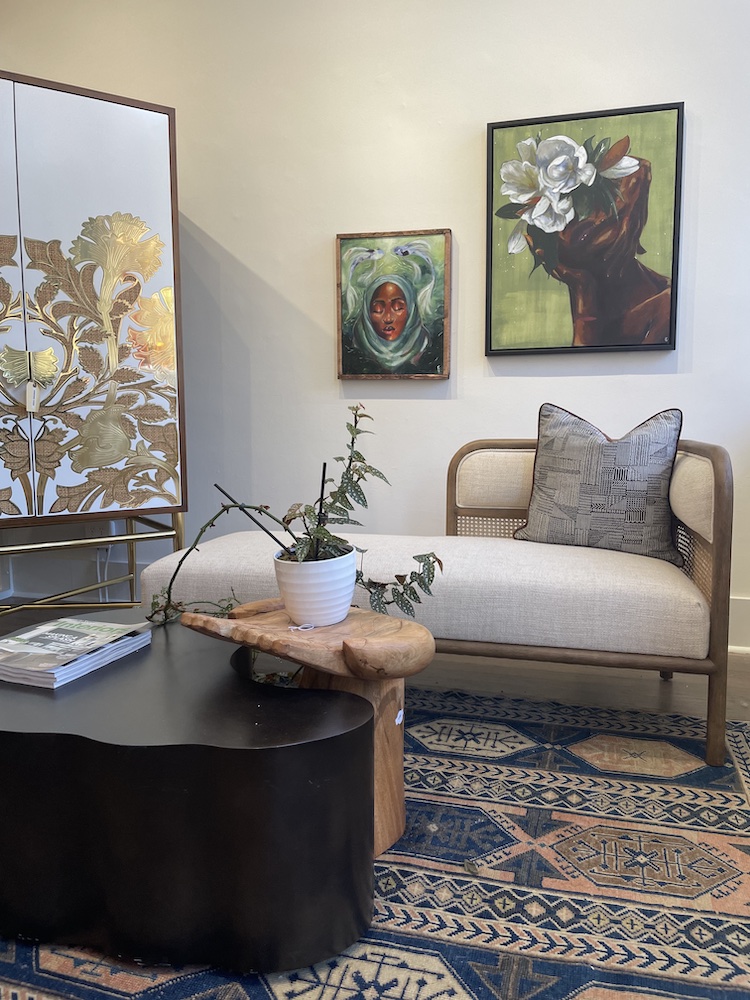 When you stop by next week, the furnishings will speak for themselves, however we wanted to introduce you to our immensely talented artists as well. We will be featuring paintings on canvas and wood, as well as handmade textiles from these incredible women we can't wait for you to meet.
Briana Gordon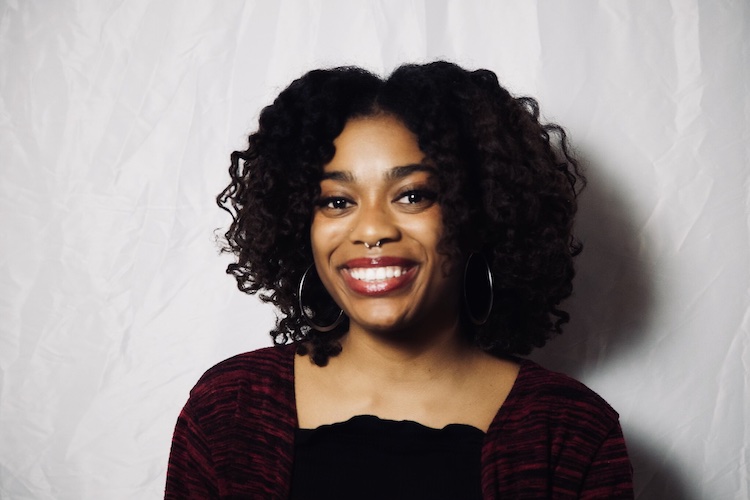 "Self expression and knowledge seeking are currently two of Briana's focuses in life. Visual art is her main tool for expression, and each piece that she creates denotes qualities that she would like to surround herself with, such as themes of peace and internal reflection.
She is self taught, and has been drawing her entire life, learning new techniques from trial and error. Her art is heavily influenced by her personal evolution as well as the events, people, and situations in her life. At the moment she is inspired by the rise of spirituality in the community around her and the energy that the divine feminine can create within oneself and within others. Her work also often includes floral or nature based accents.
We are all constantly evolving, learning, and growing as individuals and as a collective. She hopes that with her art she can eventually inspire others to search for that sense of peace within themselves."
Jen Boaz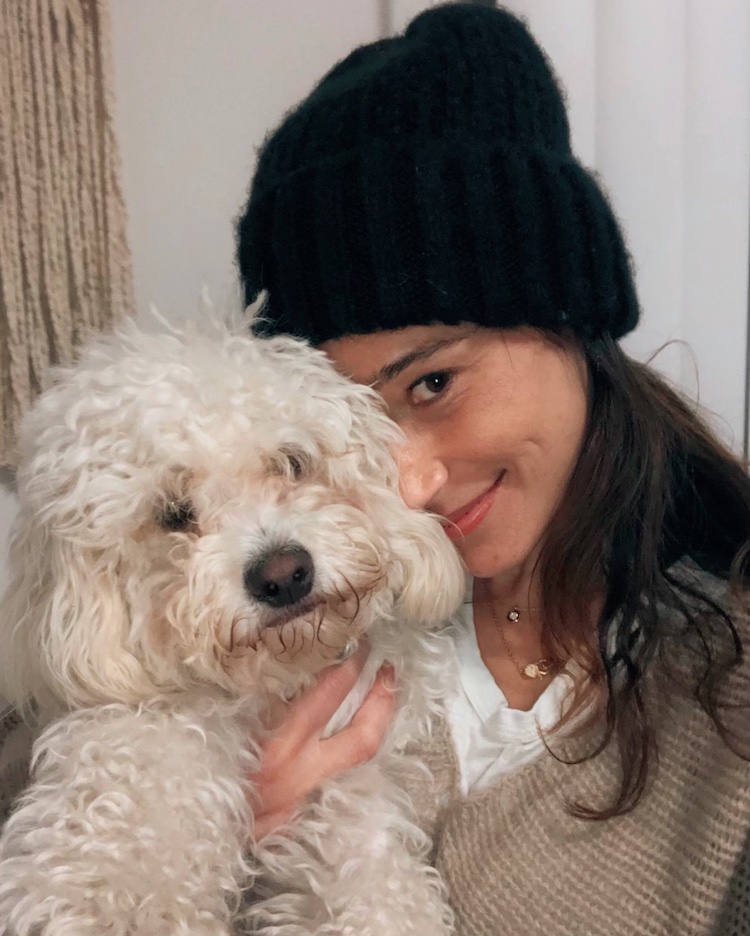 "Jen Boaz creates sophisticated, modern art with a bohemian vibe. Her technique of layering color represents a  mesmerizing energy that sets the mood for your space. With her clean, eye-catching and refreshing style, Jen's art will make your room come together. Music and her dog Bowie are her muse." We have watched Jen's art evolve from the time she first wandered into our studio with her smaller paper pieces to the textured collection we showcased at the 2021 Serenbe Showhouse, and now the whimsical and colorful pieces we currently have featured in our studio.
Ivy Buamah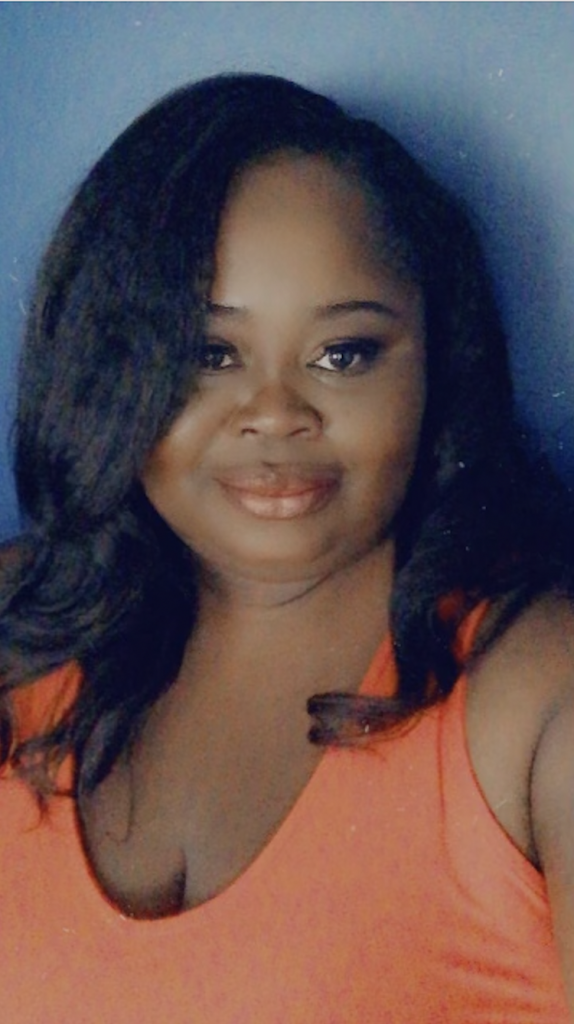 "Meet Ivy, former school teacher and the face behind the brand. Abena offers luxurious African prints, textiles, homegoods, and fashion accessories inspired by the traditional styles of the Ghanaian culture, from which Ivy's family roots are derived. Kente cloth, Northern Ghana elephant grass woven baskets, and West African hand-stamped mudcloth accessories are notable highlights in her collections. She sources her textiles from local African vendors in the Atlanta, Ga area, as well as from vendors in Ghana. Ivy has unbelievable talent and an eye for beauty. At the core of her business, she places her Faith in God and it sure has paid off!"
Each of these women will be at the event to tell you more about themselves and their work. The women of Balance Design will also be there in our usual fashion, to walk you through the furnishings, our inspiration, and treat you to some spiked (or not) apple cider and fall cookies as well. Our hope is that with staggered attendees and more timing flexibility, everyone will feel safe, appreciated, and inspired by the beautiful collection and the incredible women behind it. See you next Friday!