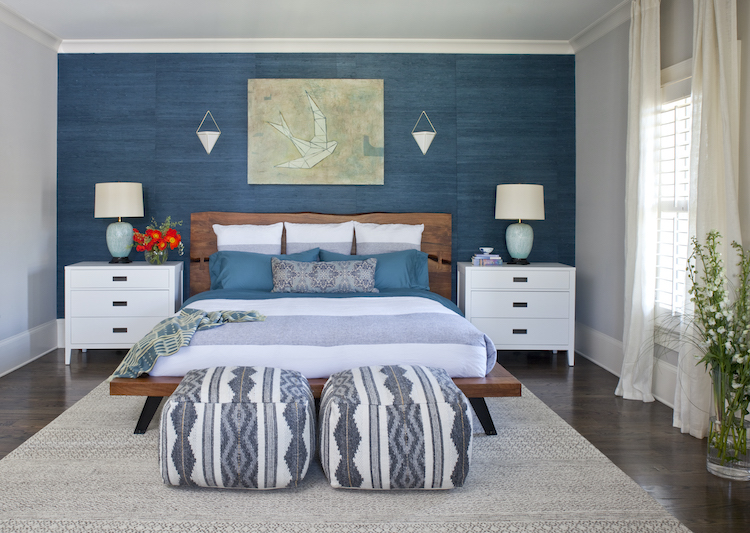 03 Jul

INTERIOR DESIGN TRENDS 2020- SUMMER IS HERE! By: Guest Blogger NEW HOME SOURCE

By New Home Source's Jenna Royall

With the Summer Solstice behind us, spring has officially given way to the lazy, hazy, crazy days. Although the season looks a bit different this year, it's still the perfect time to revamp the design of your home. NewHomeSource's Jenna Royall reached out to 11 design experts to get the latest insight on what lasting trends we can expect as the months grow warmer.

No Place for Boring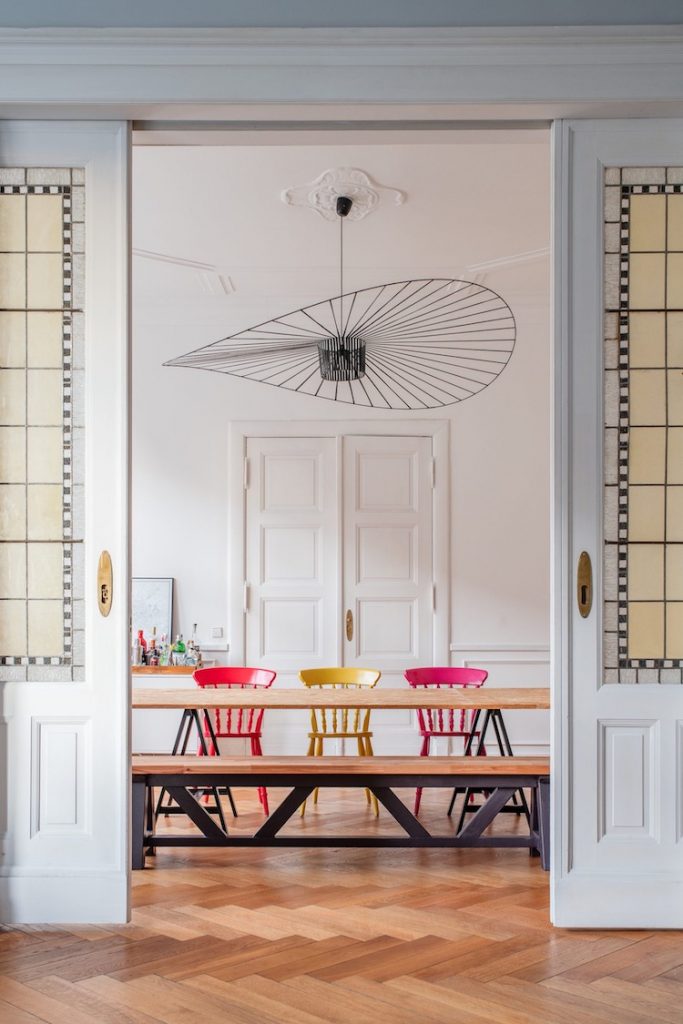 "With a more thoughtful approach to interior design, minimal interiors with carefully considered design choices will be trending in 2020. There's no place for boring, though! Calm interiors will be complemented by bold colors, statement furniture, and accessories; creating unique interiors that are full of personality. The use of strong, contrasting colors will be visible throughout the home, including in kitchens where high-contrast two-tone cabinets will be on-trend well into the next year, too!" – Christine Wessling runs Little House on the Corner, a popular home renovation blog that has covered adventures renovating an Edwardian home in Manchester, a city apartment in Berlin, and currently, an art nouveau renovation in the Charlottenburg area of Berlin. Follow her progress in Instagram!
Maximize Your Relaxation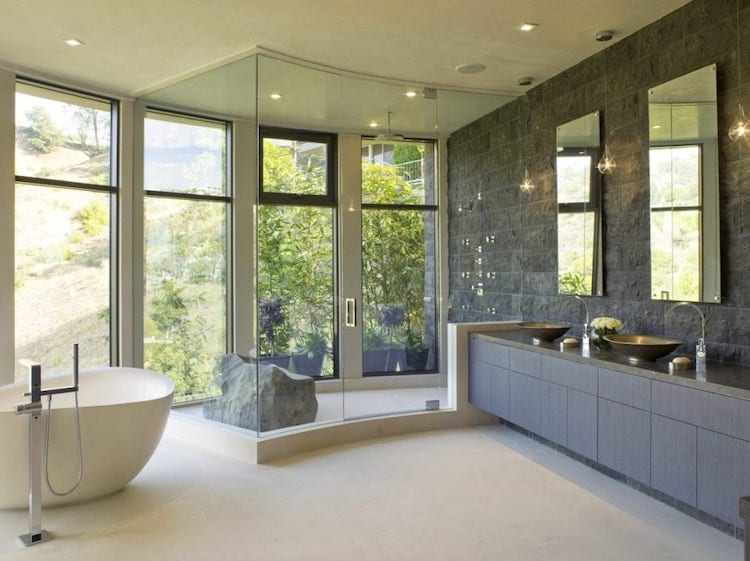 "There's a desire for our interiors to make us feel relaxed, using colors and materials that are soothing and grounded in nature. Imagine a serene space surrounded in colors like warm whites, beige, and taupes; tie the look together with accents in black and grey, along with organic materials like warm wood, smooth stone, ceramic, and glass. Think calm, cool, and clutter free.
"Sun, leafy plants, and fresh air not only keep us healthy, but make us feel happier and more optimistic. We love the seamless flow of the indoor-outdoor lifestyle; this can be done by keeping windows open and airy, and extending the living space into a small patio or a large backyard." – Lori Dennis, ASID, LEED AP leads one of the top interior design firms in Los Angeles, is an HGTV celebrity, TED speaker, best-selling author, and influencer in the design and organic lifestyle space who has been featured in a wide variety of publications around the world. Check out Instagram for some of her past projects!
Rock On with Rattan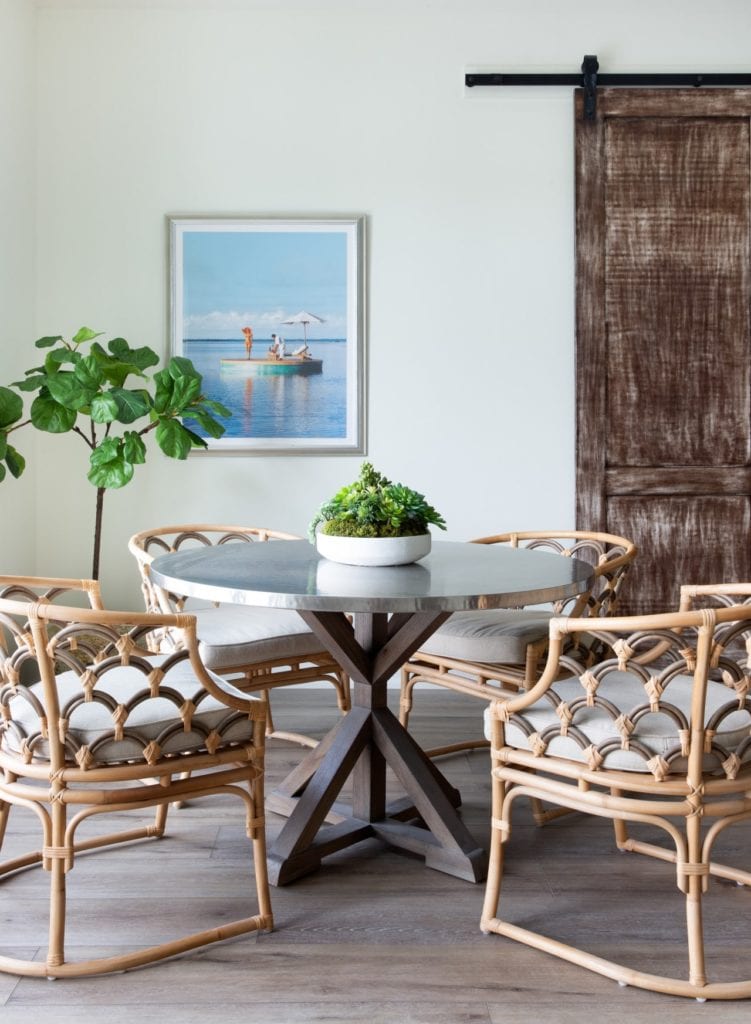 "Summer-inspired finishes like rattan are a fun trend you can expect to see a lot of this summer. It is reminiscent of island life, in both woven and wavy forms. Throughout the year, rattan pieces add the perfect amount of texture to a space. Organic and natural elements like this can be brought in with furniture, mirrors, or accents. Rattan tends to offer a casual or bohemian vibe to a space. An easy way to experiment with the trend is with rattan baskets or trays." – Designers at Heather Scott Home & Design are a team recognized as one of the best in Texas. Check out their Instagram to learn more about their classic, chic, and serene design style!
Balance Chaos with Simplicity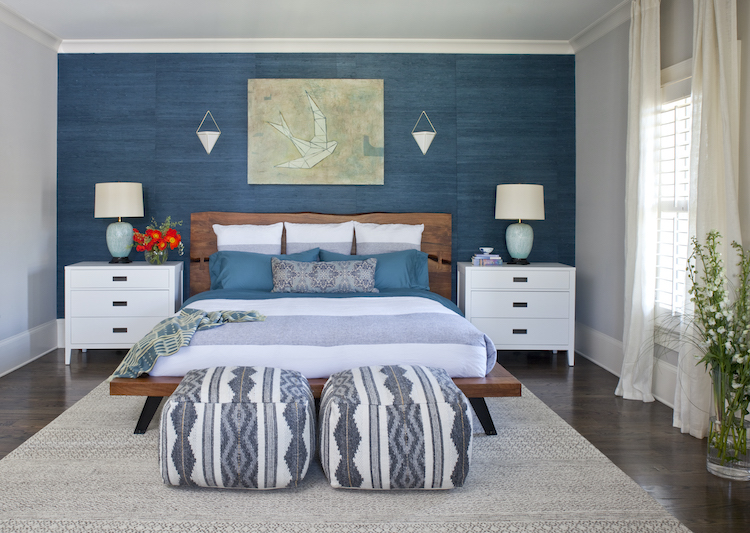 "With the heat and humidity of summer, we are all about Japanese design following the Zen principles of serenity, simplicity, and nature. This master bedroom opens up to a balcony to let in the fresh air for early morning yoga. A natural live edge bed grounds the room. We love lots of greenery and bringing in the outdoors. Bold, crisp, blue grasscloth behind the bed is both dramatic and textural." – Based in Atlanta, Georgia, Balance Design is a different kind of design firm that listens and collaborates with their clients for timeless results. Get to know this team of creatives and analysts on their Instagram!
Mimic Mother Nature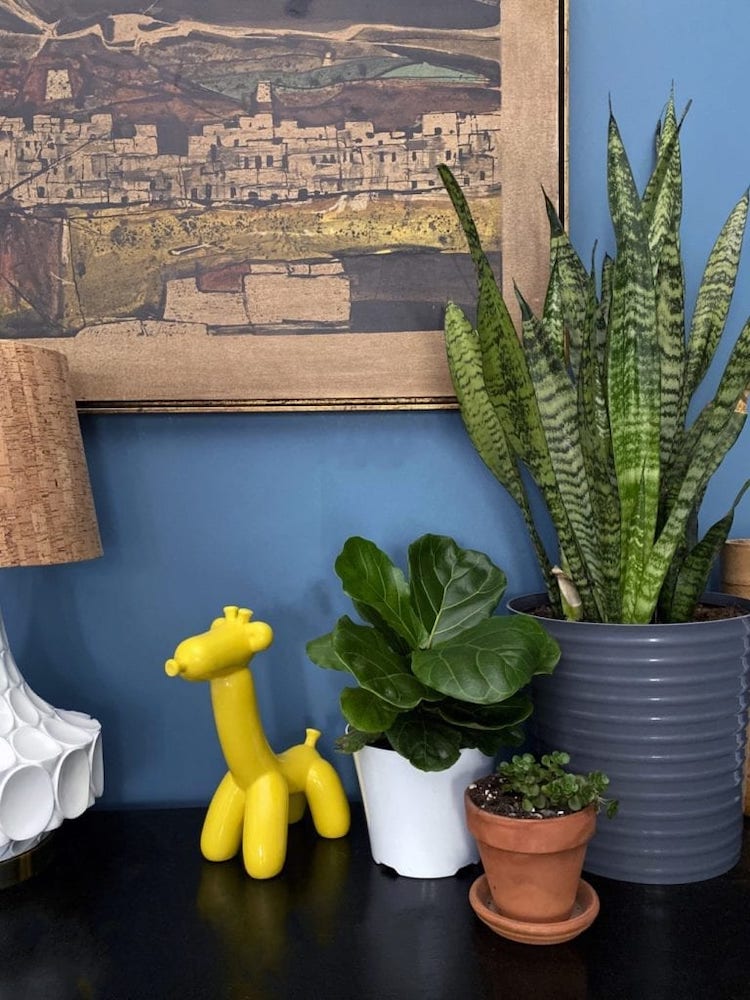 "Indoor plants add so much texture to an interior; their colors, patterns, leaf shapes, and lively green colors are definitely in for this summer. Along the same vein, patterns inspired by nature are popping up all over the place, tying in well with bringing nature indoors. Whether it be florals or tropical leaves or animal prints, the indoors are living outdoors this summer.
"Organic, curvy shapes are very popular this summer as well. Turning squared doorways into arches or changing out rectilinear furniture for curvy pieces are both great ways to bring home this hot trend. Cap everything off with some eye-catching, colorful or patterned tiles and you've got summer's look nailed!" – Becky Marshall authors Flipping the Flip, a blog that follows the experience of undoing everything a flipper did on a home (sprinkled with stories about pups). Follow her Instagram to stay in the loop!
You Deserve a Staycation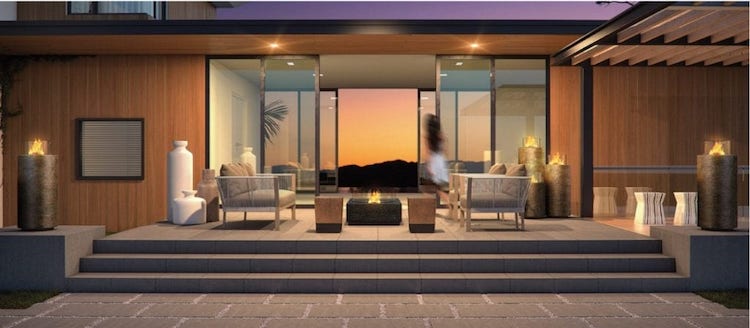 "One of the biggest design trends I see for Summer 2020 is embracing the 'staycation.' Homeowners are redirecting their dollars to upgrade their own outdoor living spaces. Whether it be their yard, deck, patio, or balcony, homeowners want to feel safe and have a beautiful outdoor space to spend time with family. Luxury outdoor furniture, fire pits, water features, gardens, and pools are all trending." – Linda Holt is the founder of Linda Holt Creative and the blog Focus on Creativity. Follow her on Instagram for updates and inspiration!
Go Organic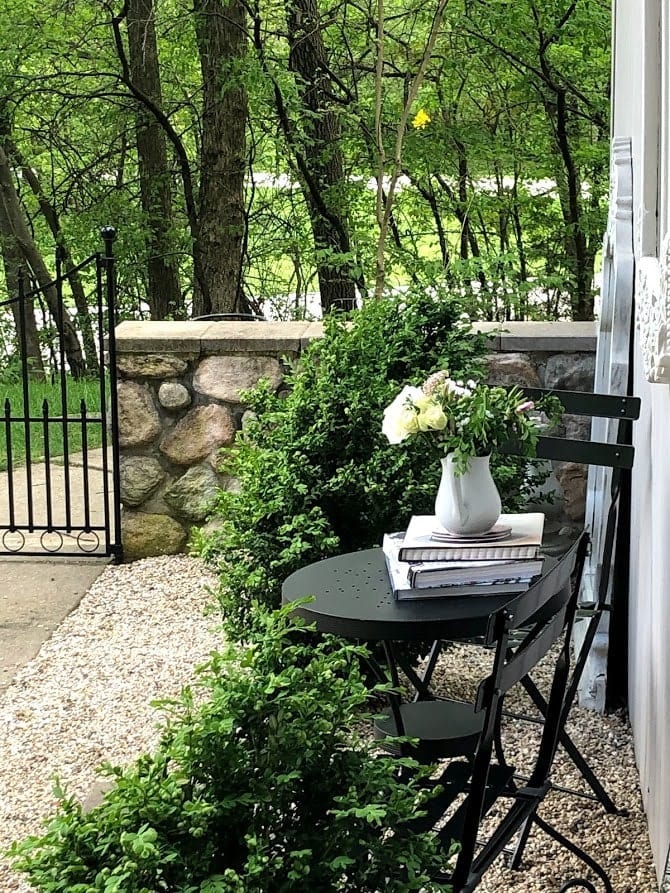 "While organic elements are timeless, they're destined to rule this summer as we seek healing from nature. Simply bringing in a few live plants (tropicals, succulents, potted trees) to clean the air and infuse life-giving sensual comfort can enhance interiors. Furniture and accessories made from natural and sustainable woods and fibers are also hotter than ever.
"Organization is also a 2020 buzzword. More attention will be paid to productive home offices and work spaces. Creative alternatives utilizing closets, decorative niches, and unfinished basements will grow even more common. Murphy desks, standing work stations, small space solutions, and ergonomic desk chairs are already gaining interest." – Michele Ranard authors Hello Lovely, where she shares her passion for design to inspire others in heart and home. Visit her Pinterest for more ideas and inspiration!
Design an Outdoor Oasis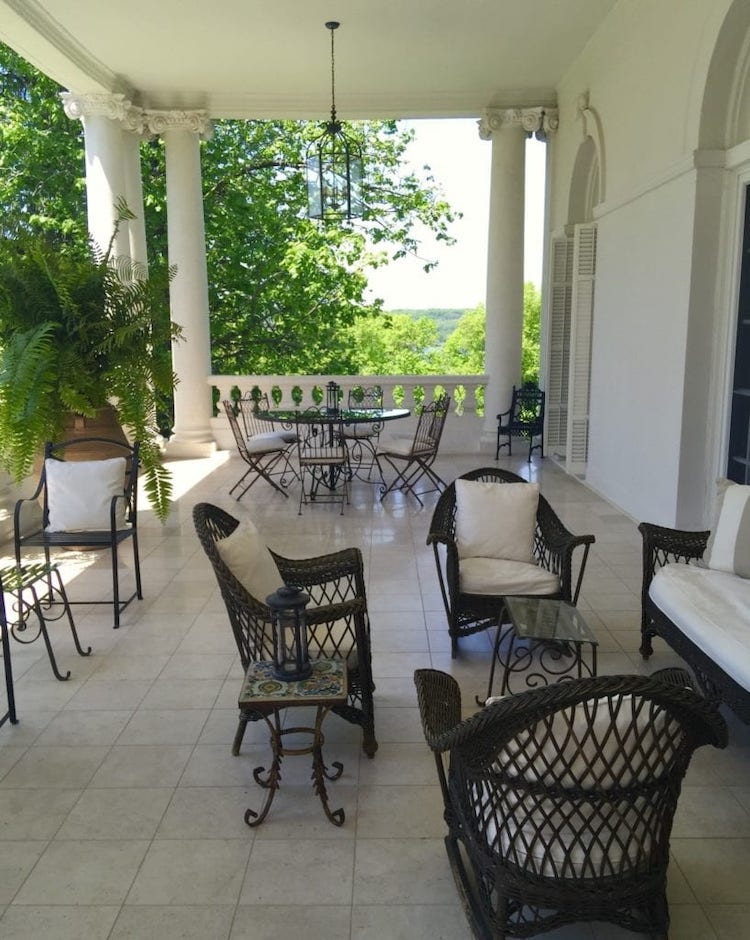 "Creating well-designed outdoor spaces is a key trend for Summer 2020. What used to consist of a grill area with a patio set is being replaced with outdoor living and dining rooms. Start with indoor/outdoor carpets to define these outdoor living spaces. There are plentiful options at all price points for outdoor seating—such as sofas, sectionals, and club chairs—that mimic living room furniture. Embellish seating with throws for chilly nights and pillows in indoor/outdoor fabrics for comfort. Add lanterns with battery-powered LED candles and string lights for illumination. Use a console table to create an outdoor bar or buffet. Finish with potted palms and container plants to add extra greenery and color." – Laurie Gorelick, a celebrated and nationally-recognized interior designer, established Laurie Gorelick Interiors more than 20 years ago. You can see her keen senses of color, pattern, and texture showcased on Instagram.
Look to Hygge for Inspiration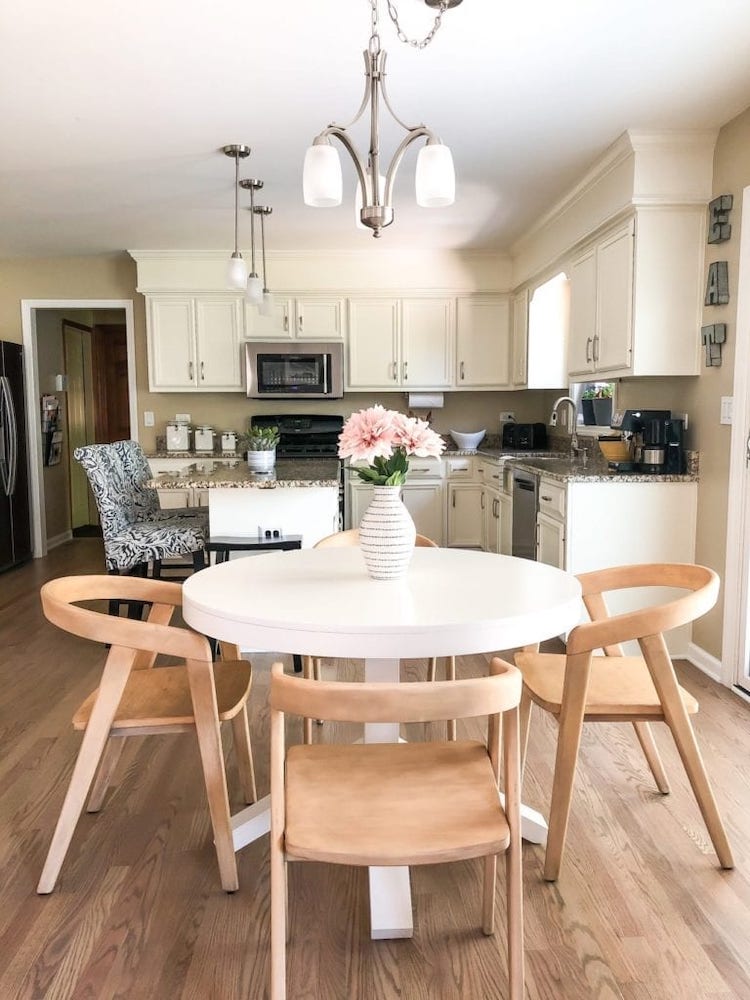 "We have seen a definite shift in interior design trends. In the past, modern farmhouse style, shiplap, and repurposed traditional furniture reigned supreme. Now, Scandinavian clean lines with an updated mid-century influence and minimal decor are taking the design world by storm! This Hygge-inspired style trend – including lighter wood tones, plants, minimal decor, and simpler shapes and patterns – is, thankfully, very adaptable. You can add a bit of modern to any style. For example, our kitchen with its 1990s cabinets and granite counters got a touch of modern style with a new table and chairs." – Ellen Bliss is the creative mind behind Ellen Bliss Home, a home décor inspiration website. Follow her on Instagram for a regular dose of creativity
Brightness, Light and Joy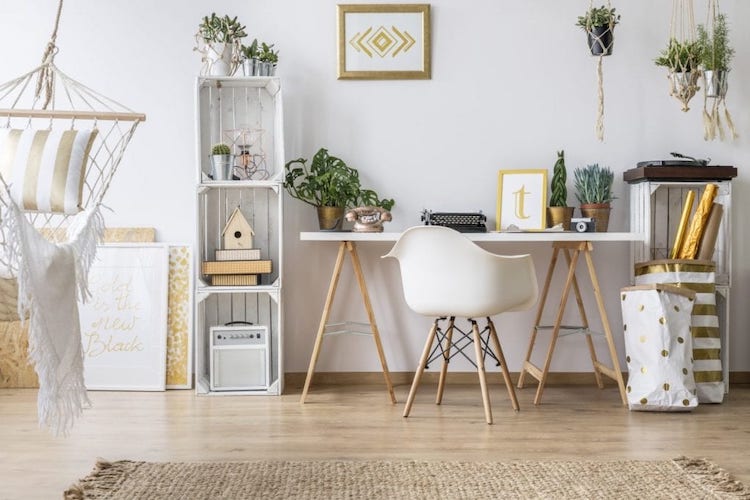 "This summer, people are seeking out brightness, light, and joy. It's no surprise white interiors are extremely popular as a simple, effective way to brighten an interior space. It also makes a space feel more expansive and open.
"Natural materials like sisal, brick, stone, and natural wood finishes are trending. These textures help bring the outdoors in and give your home a sense of serenity and calm. Color trends also reflect our desire to create an outdoor, natural feel within our home. The soft blues and greens found in nature are popular. These colors establish a peaceful space where you can beat the heat in calming comfort.
"I expect to see a combination of many of these elements brought to life over the next few months as we, more than ever, are looking to our home as a beautiful, safe oasis where we can relax with loved ones." – Michele Schweppe is the voice behind The Redesign Habit, where she uses her passion for and education in design to share ideas on how to DIY your home and love where you live. Check out her Facebook for advice on your next DIY project!
Stylish and Functional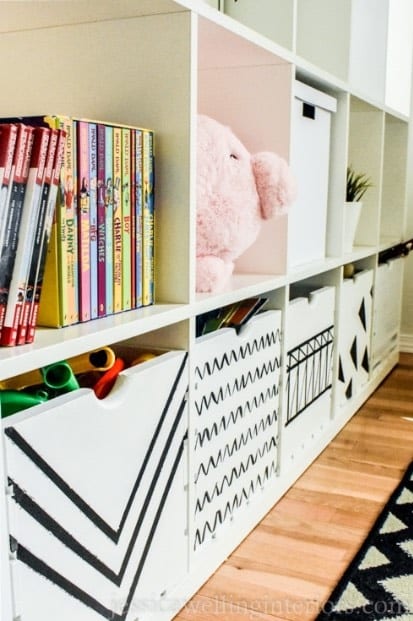 "This summer, we're seeing a trend toward brighter and more cheerful colors that lift the spirit and warm the heart. Think about adding pops of deep turquoise, lime green, hot pink, or vibrant sunny yellow. Bold black and white patterns are also on trend.
"People are also looking to overcome the chaos of clutter that's tends to accumulate. They're striving to take back control of their tables and countertops and turning toward décor that does the double duty of being both stylish and functional; think wicker baskets, colorful bins, and decorative wood crates." – Carrie Ypma, owner and chief executive officer of Clutter Keeper and author of the blog Ideas for the Home by Kenarry, believes that an organized home is a happy home. Clutter Keeper's Facebook page is a great place to go for all things organization and design!