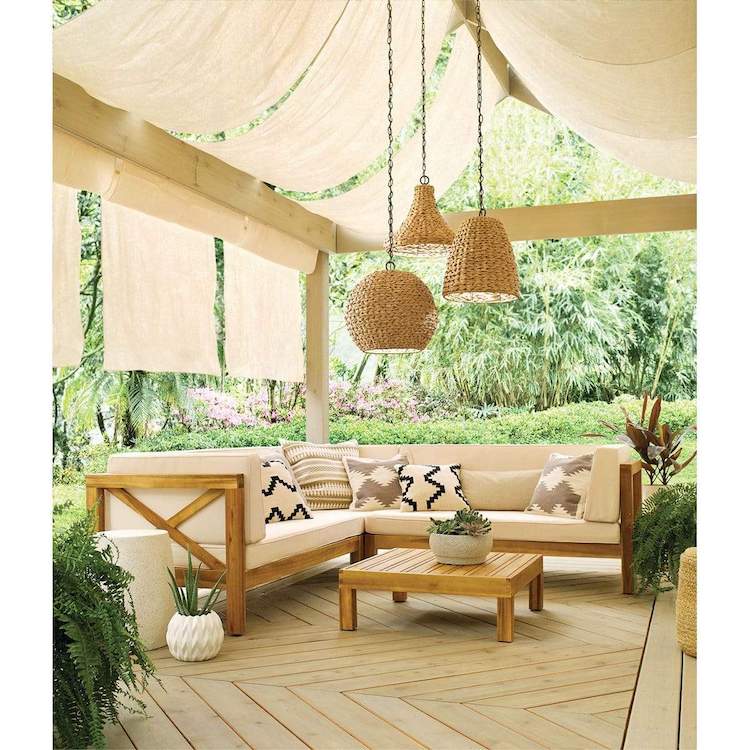 29 Apr

Elevate Your Outdoors! 6 Tips for Creating Your Outdoor Sanctuary

By Kalah Lee

Summer is upon us! As the fireflies begin to dance and the backyard barbecues commence, it's time to start thinking about outdoor living for 2022! Of course, the best part of summer is making memories with friends and family, but why not have a beautiful outdoor space to make the moments even more magical. 
Plants, Plants, Plants!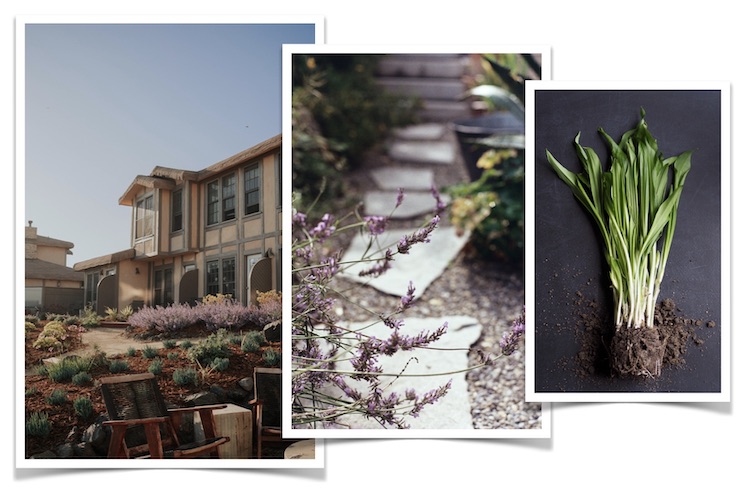 Now more than ever, the world of design is incorporating all of the senses, so why not add more than just flowers to your lawn? Consider adding herbs to your garden bed! Not only are they wonderful for cooking and/or aromatherapy, but you can also extend their appeal by enjoying their aesthetic while they're still in the ground. The benefits to growing your own herbs, like lavender and lemongrass, are endless. They are also natural insect repellents and encourage the presence of pollinators. As the more recent presence of adventurous eaters and inspired mixologists flood our social media outlets, growing your own herbs gives you the opportunity to try out some of those intriguing recipes you may have been eyeing. And after you've (over)indulged, you can even use the herbs to aid with your immune system, headaches, detoxifying, and even stress. 
Outdoor Living Areas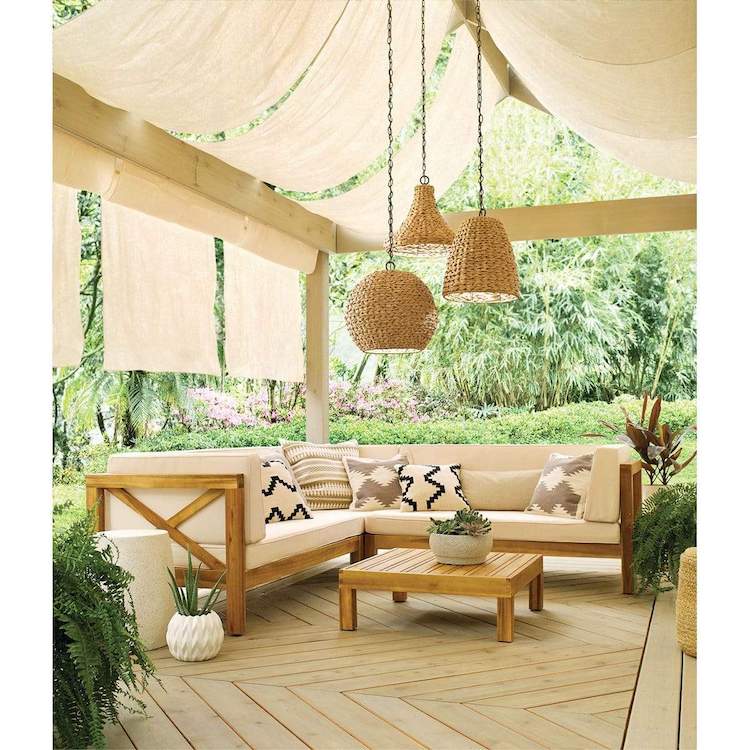 In terms of design, the primary focus is often bringing the outdoors in. However, this time of year we want to bring the inside out! Creating a comfortable outdoor living area can take your central gathering area from around the tv to being immersed in fresh air. Consider incorporating an outdoor sofa or sectional for optimal comfort and support while lounging, especially If you plan to spend ample time outside. Outdoor furniture isn't all about seating either. Well made outdoor tables come in all shapes and sizes, and allow you and your guests ample space to function. The perfect piece will be determined by the layout, space and your desired aesthetic. If you have a covered porch, outdoor curtains elevate the space in a way that truly makes it feel like an outdoor living room. Plus, they offer shade and privacy when needed. With so many incredible options on the market these days, the opportunities are endless. Find the pieces that speak to you and your family, and you'll enjoy your space for years to come.
Illuminate Your Space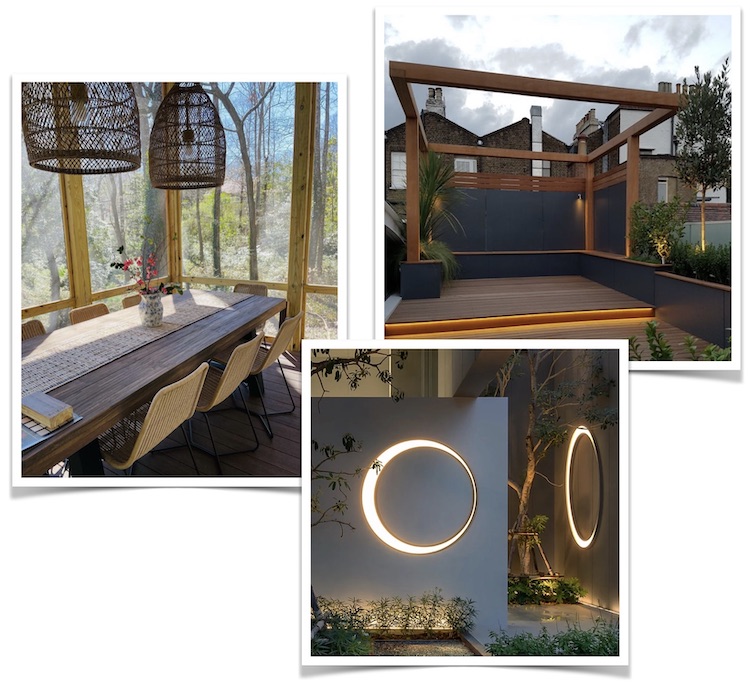 Although summer days sometimes seem like they can go on forever, implementing adequate outdoor lighting will significantly improve your evening experiences. You'll be able to enjoy your space long into the night and you'll rest easy with the added visual security. When selecting your outdoor furnishings, the lighting is something that should be considered early on. Will your lighting be purely aesthetic, or will it be used to provide necessary visibility for activities like grilling or games? Considering the function of the lighting will guide you to the right options for your space. One final thing to note is that durability is key. While selecting your lighting, pay attention to the IP rating- the highest rating is six and will ensure your fixture will endure the elements.
Small Spaces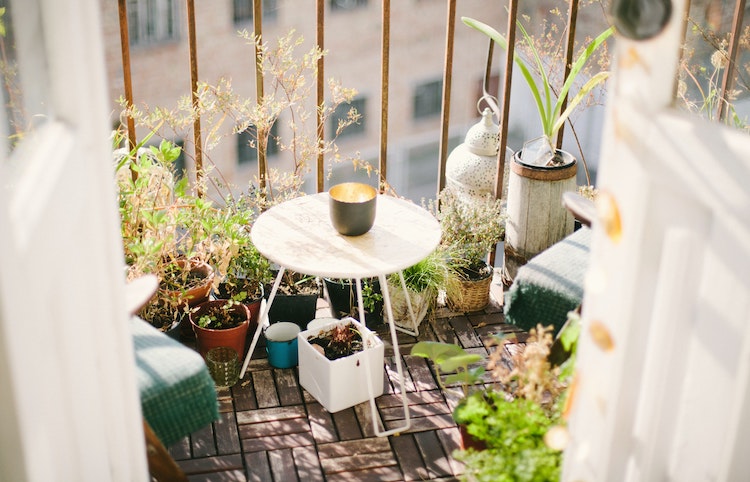 For those that live in an apartment setting or simply don't have ample outdoor space, do not fear! Just because your square footage may be limited doesn't mean you can't enjoy a relaxing garden space. As always, consider how you plan to use the space. Do you want a tiny garden? Or would a small seating area better host your guests? Will this simply be your space for one? Additionally, you should consider if this is a space you'd like to purchase new items for, or if existing or repurposed furniture would do the trick. Another thing to consider if you are in an apartment, is that privacy is not always guaranteed. Our recommendation in that case is to add tall plants. Not only will you get to enjoy the greenery inside and out, but can provide the needed cover between you and the rest of the world. There are many ways to thoughtfully design a smaller outdoor sanctuary, as long as you prioritize its function. When ample space is not available, it is essential that every inch is accounted for!
Reduce, Reuse, Recycle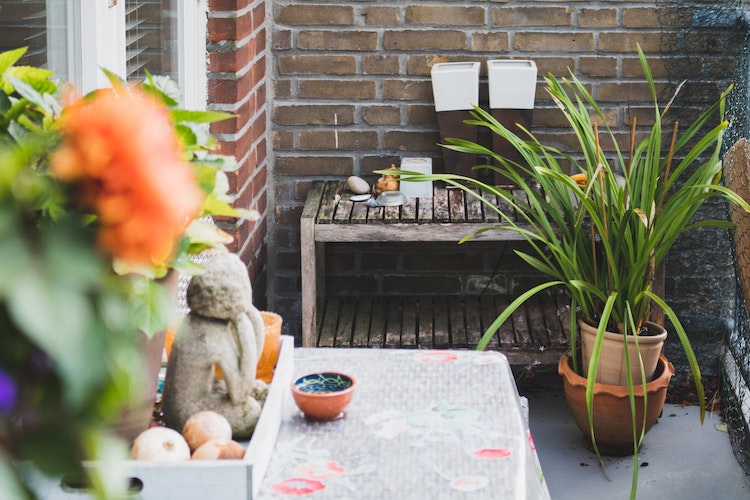 While the budget necessary to create a sprawling outdoor oasis may not be in your range, we found that repurposing items can add a unique vibe- especially to smaller spaces. One option (with the added benefit of sustainability) is to utilize wooden pallets. Many companies that work with them, throw them out after a single use. With a few tools, some elbow grease, and some outdoor cushions, a pallet could be repurposed into a cozy outdoor nook perfect for reading, people watching, or even socializing with friends. 
Alternative Lawn Solutions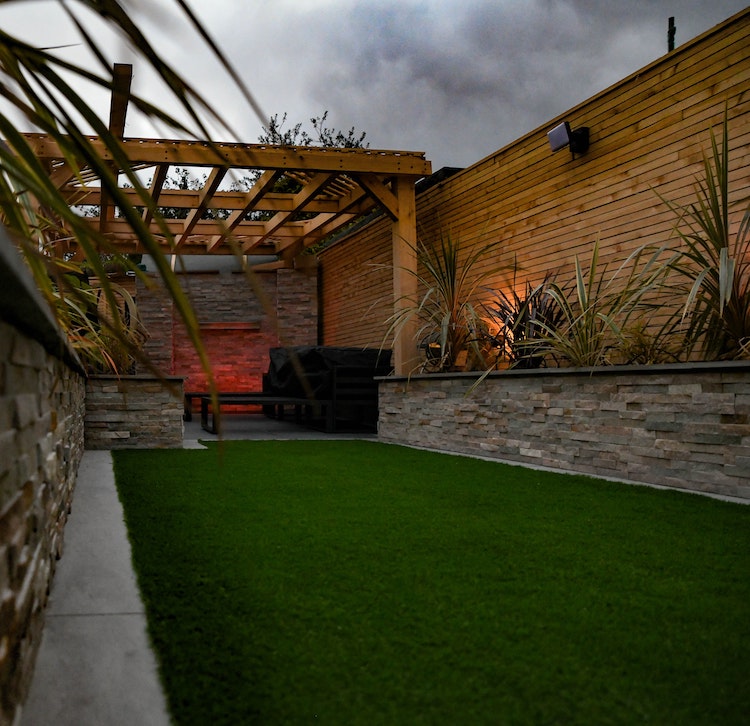 As many of us celebrated Earth Day last week, we thought it would be helpful to share some alternative lawn solutions that also help the planet. Enter: the artificial turf. As odd as it may sound, we think considering artificial grass is a wonderful option for social areas in your garden! Despite dated images of the Brady Bunch popping into your head, artificial turf can be a fantastic solution for the earth conscious homeowner. While it may take some getting used to, there are some immediate benefits of turf that cannot be ignored. Gas powered equipment becomes unnecessary, maintenance chemicals are eliminated, and daily watering becomes a non-issue.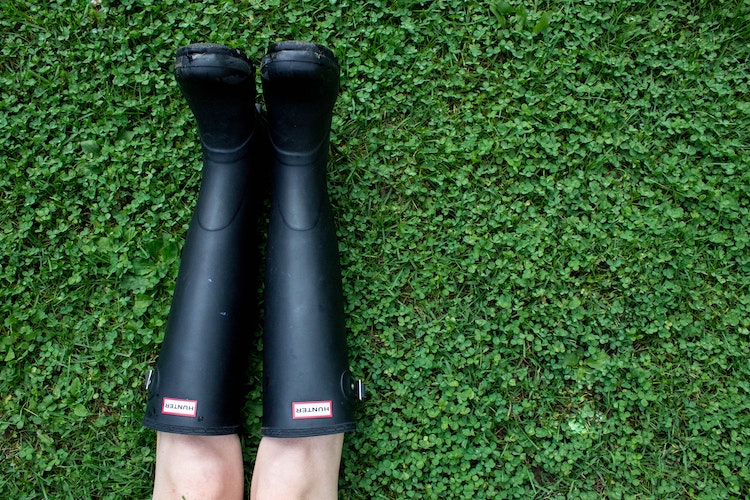 As an alternative to a faux lawn, Designer, Melody Richardson, brought the idea of the clover lawn to our attention. They are not a new concept, they've simply fallen out of popularity as the perfectly manicured grass lawn became the American standard. Lucky for us, clover lawns are back with renewed charm. Creating this lawn is simply a mix of clovers and whatever grass is native to your area. It requires little to no mowing, and the need to water is cut nearly in half. What about the weeds that we don't want, you ask? Clovers actually overpower the majority of local weeds. There is no need to use harmful chemicals, and (like certain herbs) there is the added benefit of attracting pollinators back to your area. Our favorite attribute of the clover lawn is that it is safe for all four legged friends, and is not affected by stains of backyard bathroom potty breaks. Oh, and did we mention it's absolutely beautiful? 

Now is the perfect time to begin enjoying your garden with friends and family! If we learned anything over the past two years, it's that connection with friends and family is essential. Enjoy your newly curated outdoor space, together.