03 Apr

Designers at Home: Challenges, Surprises, and Projects

By The Balance Design Team

Week 3 of our Shelter-in-Place orders in Georgia. We, like many other small businesses, have been facing some tough challenges. From not being able to move forward on some projects, to practicing virtual meetings, to homeschooling and not going stir crazy, we are all trying to cope with this new way of life. And although these are unprecedented and difficult times, we are eternally grateful to the healthcare community and essential workers for their service.

We thought it would be interesting to recant the experiences over the last few weeks of some of our designers, and gain a personal insight on everything from their thoughts and fears to fun projects around the house.
Melody
This time at home has been particularly stressful for me. As many of our readers/clients/friends know, I live in my childhood home helping to take care of my father who is in a wheelchair due to an autoimmune disease. Naturally, under the circumstances, we are taking every precaution possible to limit our exposure. Working from home, keeping up with the news, and maintaining the household/cooking has definitely been a challenge and I have struggled with my stress levels.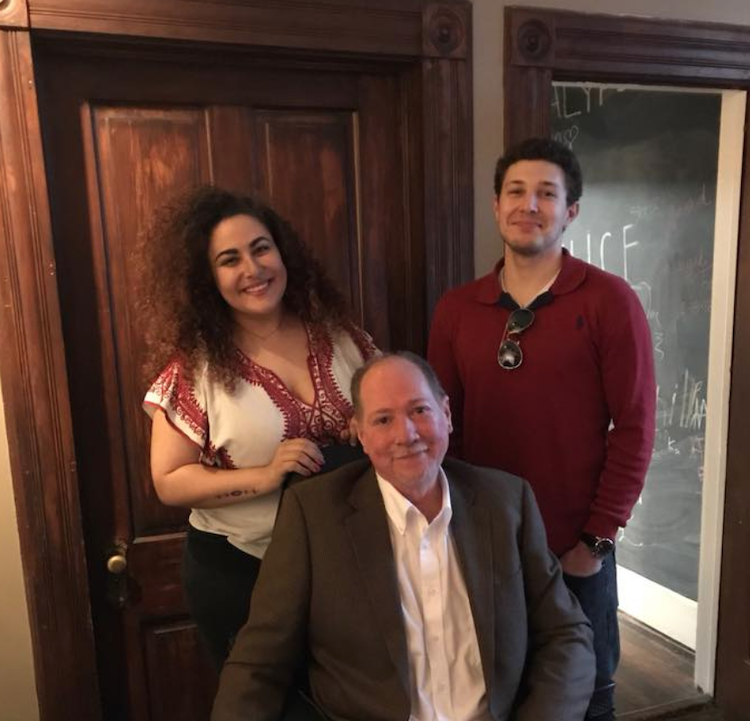 I have been saying that I was going to paint over the pink sponge paint from 2005 in my bedroom for a long time now, and somehow have never gotten around to it. However, now that I'm spending significantly more time in the house, I found the walls to be much too loud for my overwhelmed brain. So this past weekend, I decided to finally get it done. Many of my friends were shocked when I told them I'd gotten rid of the pink- it has been my signature color for 15+ years! And honestly, as I began painting, I had a minor moment of panic and regret – was I really ready to let go of the room that I grew up in? But now when I enter my space, I feel a sense of calm that has not been present there for a long time and I am ever so grateful.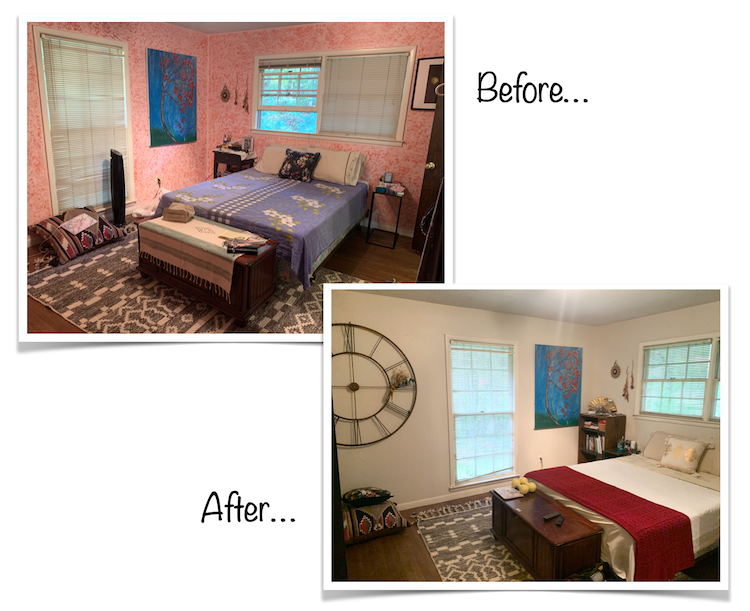 If there is just one thing that you can focus on that will bring you a little bit of peace in this time of uncertainty, go for it! It will make a world of difference and grant you that small respite we are all desperately searching for.
Jennifer
For my family, just like many other families with young children during this time, trying to work while homeschooling has been our biggest challenge. I'm not going to lie, our first week at home was a complete mess – lots of meltdowns, stressful conversations and an overall feeling of being overwhelmed – with everything! Week #2 started to get a little better once my husband and I both acknowledged the simple fact that we could both no longer get eight consecutive hours of work in if we were going to give our son the attention that he needed. We have been able to prioritize a few work tasks per day for each of us, while taking turns doing 15-20 minute spurts of kindergarten lessons with our son and making time for lots of play to break up the day. Luckily the weather has been really nice here in Atlanta, so we've been able to get outside, go on lots of "nature hikes" and tackle a few projects around the house too.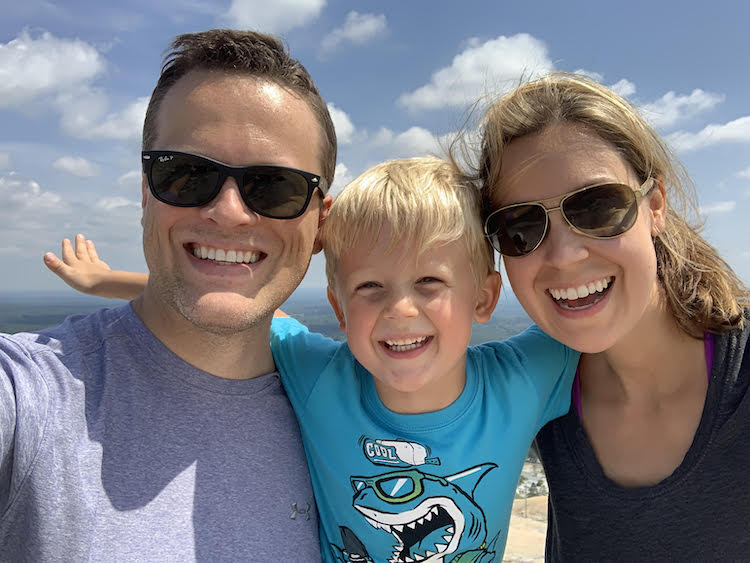 Home projects are huge de-stressors for me. I love using power tools, building things with my hands, as well as the cost savings involved with fixing things myself while adding value to our home. With each new project we tackle, however, there always seems to be a learning curve we have to overcome or break we need to take to play, making most of our recent home endeavors take longer than they should to complete. Either way, I have found painting, cutting wood, and drilling holes all to be somewhat therapeutic and gratifying for me during this time of seclusion at home.
Over the past 2 months, my husband and I have been working on our outdoor shed. Ever since we moved into our house 6 years ago, I could not wait to get rid of the "red barn" in our backyard. The walls and interior of the shed were in great conditions, but the overall aesthetic was definitely not up to par with the rest of the work we have done on the house. Just like we tell most of our clients, I started off with an inspiration image. I fell in love with this shed from YoungHouseLove, and knew I could adapt it to fit our shed style and color scheme.
First to go was the roof! When our house's roof was replaced earlier this year, we had the guys also replace the roof on the shed. Once this was complete, the doors were the next challenge. I had searched high and low for pre-made shed doors to purchase and install, but the only ones I could find with windows that would fit, were completely out of the budget. (Basically, I could have bought a new shed for the price of new doors). So, I set to work scouring the internet for how-to videos and ended up putting several techniques together to build the doors I had envisioned.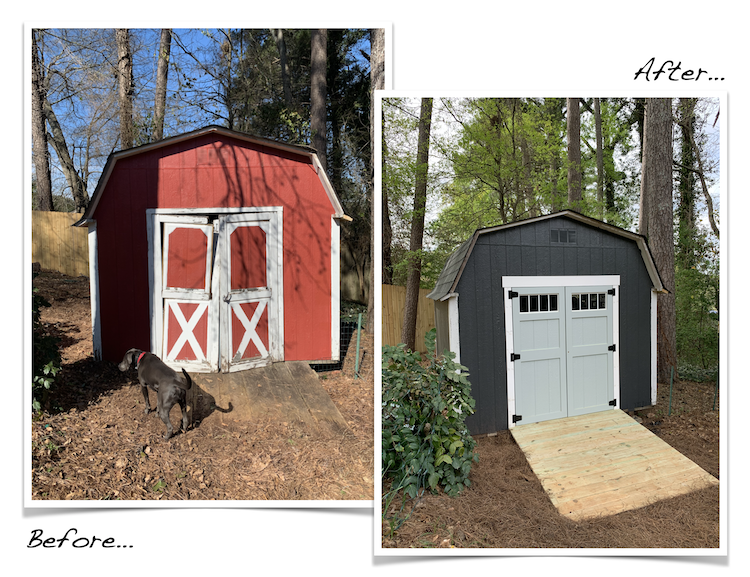 Next we temporarily installed the doors to make sure they'd fit, and then un-installed them to paint, caulk, and seal them. The exterior of the shed was then painted, and all new trim installed. The doors were re-hung and we set to work this past weekend constructing a new ramp for the lawn-mower to finally drive up! While the shed still has a few more details we'd like to tackle, like installing additional windows on the side of the shed with flower boxes, finishing the trim paint, and then organizing the inside, at least we have something much prettier to look at in the meantime while we sit out on our deck or look out our windows.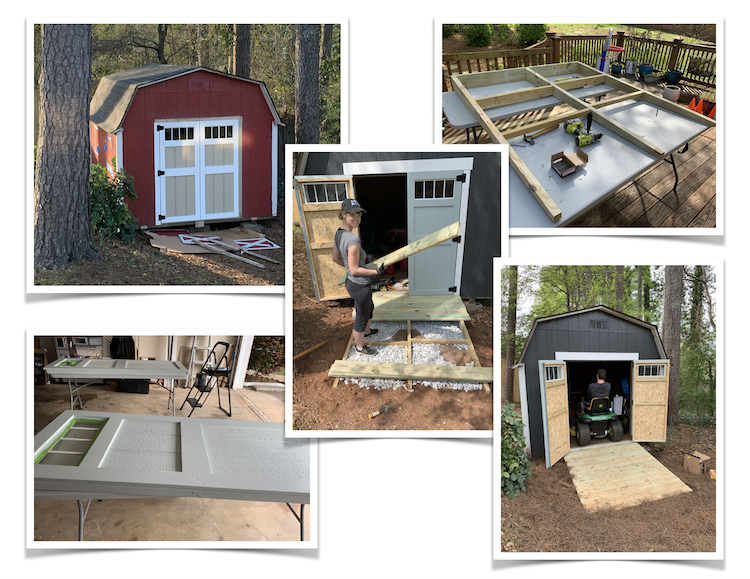 My advice to everyone during this time is to just take it one day/one week at a time and not be so hard on yourselves if everything that you set out to do in the morning doesn't get done that day. We only have so many hours in the day, and now that we've been given this opportunity to spend more time with the ones we love, we should definitely try and make the most of it, have fun, and just slow down to enjoy the little things.
All of us from Balance Design wish you safety, and peace of mind. We are all in this together, and we will all get through this together. Hope you find some inspiration and we would love to hear about your thoughts and projects, feel free to share!