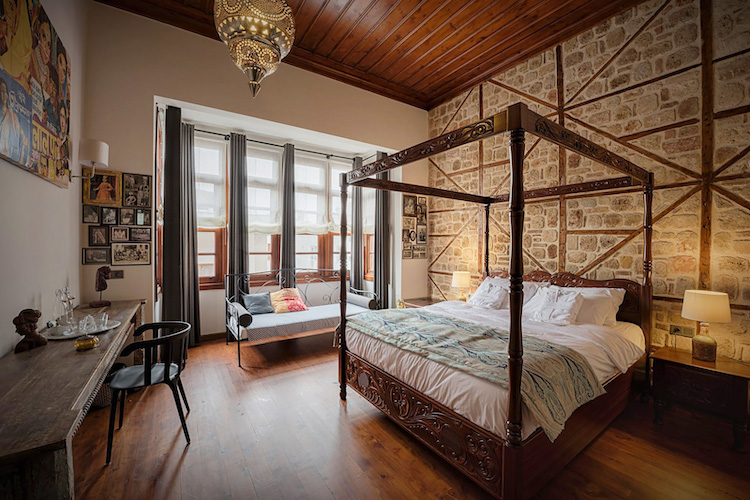 14 Aug

boutique hotel at home

High August- it's pretty hot, and rainy in Atlanta.  Thoughts of travel for weather respite and design inspiration are consistent at this time of year.  Since we are unable to take a big trip, we thought we would share some worldly inspiration from some beautiful boutique hotels and perhaps glean some tips and tricks.  We were very inspired by the website boutiquehotels.com for our tour of Turkey, Italy and Mexico.  Their photography and insight on what they liked about each place were just what we needed to virtually get away.

Bedroom

Palm House No. 17, Antalya, Turkey
"Colorful, atmospheric, and richly detailed, this luxury boutique hotel in Turkey draws inspiration from the country's recent and ancient past. Designed with a vintage, east meets west theme, we love the sense of intimacy and timelessness, and the many eye-catching treasures to be discovered. "
For your bedroom, consider a bit of symmetry in having a generous nightstand and lamp on each side of the bed for easy access and a glass of water or a book. Bedding in linen or cotton gives you most luxurious feel and then something special for the throw and pillows to make it one of a kind. If you have room for a place to sit, that makes your space more cozy, especially when coupled with original art.

Dining

Sicilian Palace, Comiso, Sicily, Italy

"This lovely 18th-century palazzo in the Baroque town of Comiso has been converted into a collection of suites and rooms with stunning views. The rooms, with their ornate high ceilings and fabulous balconies, retain much of their old world charm, but they have been modernized with a simple, unpretentious elegance. This is a great small luxury hotel in Italy for couples, families, or large groups."
Many of our homes do not have the gorgeous European architecture of plaster walls, soaring ceilings, and arches. However, there are some clever ideas in this Italian villa to consider. The first is the chalky blue color for the walls and the technique to pull the ceiling color down onto the walls to create an even higher look to the ceiling.  We also love the idea of table groupings, instead of one big table.  The size of your dining room will dictate feasibility, however a couple of round tables may be able to create intimate seating for dining, puzzles and games.

Outdoors

Las Almas Petit Hotel. Oaxaca, Mexico

"We're always delighted and inspired when human construction conforms to its environment rather than the other way around, and this small luxury hotel in Oaxaca lightly inhabits this tropical paradise with simple, handcrafted style. We love the all natural materials and stunning ocean and jungle views."  
For your outdoor space, consider creating gathering spaces for family and friends around a dining table, coffee table and a fire pit (once it gets cooler).  A lone outdoor swing or hammock beckons an afternoon cocktail and some reading. Outdoor pillows make it comfy and colorful.  A trick of the boutique hotels is to create a focal point that draws you outside from indoors.

We hope that your summer is inspired and that you can find some small ways to incorporate travel into your home. We'd love to see what you come up with!