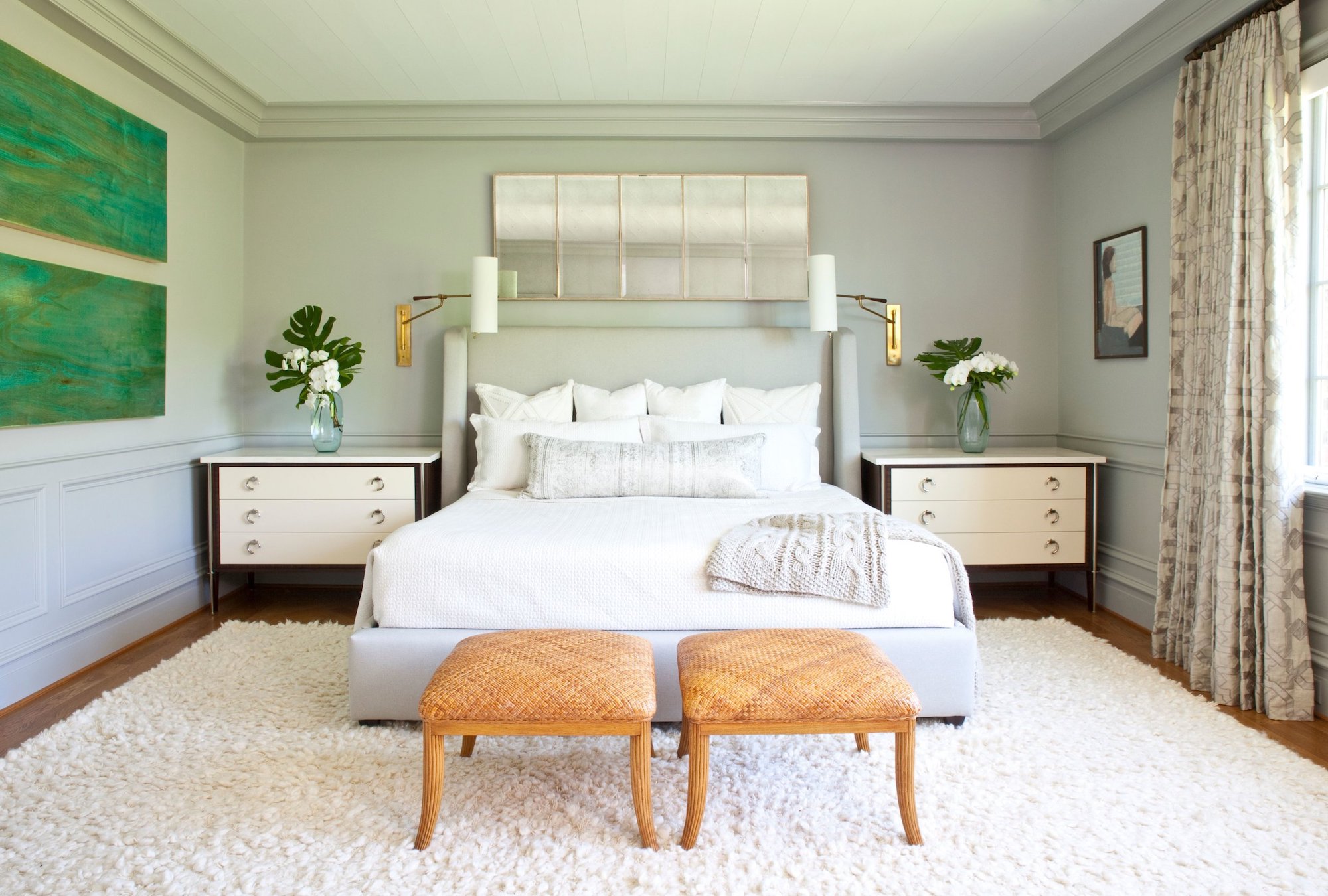 01 Oct

Bedding 101

At the end of a long week what better way is there to relax than falling asleep enveloped in comfort? Good bedding is more than just a pretty sheet set. The right selection can actually have an impact on the way you sleep as well as the aesthetic of the room. We pulled together some tips that we think will help guide you in creating the perfectly made bed.

1. Seasonal Set vs Year Round Bedding

Prior to temperature control in homes, seasonal bedding used to be quite essential in getting a good night's sleep. Materials that won't let you breathe in the summer can be just as bad as flimsy sheets that don't keep you warm in the winter. Now that we are lucky enough to maintain a steady 72 degrees, switching your bedding seasonally is not nearly as crucial. Quilts are versatile pieces that can be used alone in warmer months and easily layered on cooler days. Alternatively, if you have a deep connection with your duvet, there are lighter and heavier inserts available for different climates and seasons. Either route you choose deserves some nice soft sheets, Synthetic fibers have come a long way in comfort, but we generally suggest keeping it classic with cotton (or linen). Comfort is one thing you can't compromise on when it comes to your sheets.

2. Do I really need that many pillows?

Many times, in magazines or movies, you will see the pristinely made bed with 50 different pillows on them. If that is your thing, keep putting those pillows up and down every day! We believe in you! If you're like most of us, more than a few just seems like a hassle. We have found that a bed can look pristine with just a couple of shams and lumbars (depending on the size of your bed). You want to have enough that the bed doesn't look bare when made, but not so many that you avoid making the bed all together. Think- 1 layer sleeping pillows, one layer shams, one layer lumbars, and you're set!

3. All White Bedding

While all white bedding is what you may see in hotels, it is not the only color or palette we are limited to when making a lovely bed. We have been asked if " all white bedding" is just simply the way to go, and we say no! Don't get us wrong, all white bedding can be absolutely lovely, but if you're afraid of washing that white and keeping it white, exploring other color palettes may be right for you.

4. Choose what makes you comfortable – Literally!

Cotton, linen, sateen, velvet- there are so many options to choose from now when it comes to your bedding materials. We are often asked which one is best- and generally we ask "what makes you comfortable?" There is no definitive "right" answer when it comes to this. The most important thing is that you sleep soundly and comfortably on it.

5. Essential Pieces

If you're planning on revamping your bedding these are the pieces we suggest utilizing. 1- A good base sheet set-whatever material feels good on your skin, and works with the heaviness/softness of the other pieces on your bed and in your room. 2- Shams. These are the least fussy of the decorative bed pillows and there is an appropriate number of them for your size bed! 1 for a twin, 2-3 for queen, 3-4 for king. There is a difference in standard vs. euro shams, but the good news is that it's aesthetic. Whichever look brings you more joy is the one you should go with. Keep in mind you will need 1 more euro sham if you choose that, as they are square pillows instead of rectangular. 3. Overlaying blanket. This can be your quilt (even paired with another layer if the climate calls for it), comforter, or duvet cover. It's the piece you will snuggle up with when fall rolls in. 4. Lumbar Pillows! These are the most decadent of our suggestions, but we really do feel like they are the jewelry of the bed. These pillows are your opportunity to make a statement in your space. You can find ready made pillows or have them custom made from a fabric that you love. We suggest 1-2 for twins/queens (depending on size), and 2-3 for a king. 5. Finally, a throw blanket. Having an extra layer at the end of the bed is not just convenient when you don't want to get all the way under the covers, it also helps to balance the visual layers of the bed.

We believe that bedding is not one size fits all. Take some time to curate the bed that speaks to you and then wraps you up in a cozy hug for a good night's sleep. Good night!