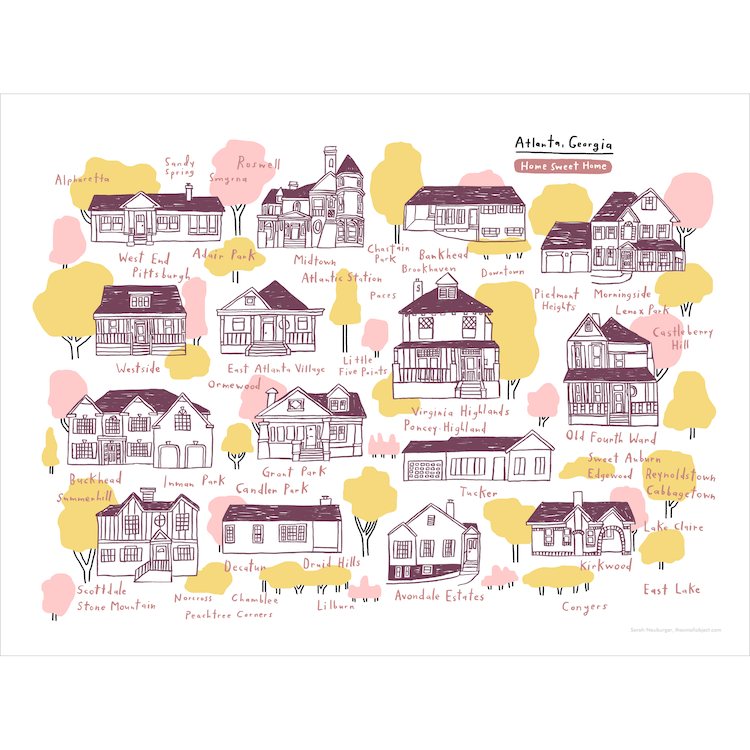 27 Mar

Beauty in Our Community

By Stephanie Andrews

As we near the end of week #2 of social distancing in Atlanta, we've found we've had more time to reflect on our lives, our health, our homes, our finances, and the possible ramifications of this giant shut down while being at home. At Balance Design, community has always played a very important role in our designs- from supporting local contractors, artisans, and vendors to primarily working within 5 miles of our studio so that we have an easy connection with our clients. Now in this time of uncertainty, I thought I would share a few beautiful works of art that we have seen recently in the community- ones you might not have taken the time to look at or even notice 3 weeks ago amidst the hustle and bustle of our busy lives.

I recently picked up this poster from Citizen Supply at Ponce City Market. The illustrator, Sarah Neuburger, shows the vernacular of the homes in each neighborhood. I loved the fun and colorful vibe that this poster added to our home in Candler Park!

With the roads empty and spring in full bloom, I have truly appreciated the ability to walk with my husband and dog every day, usually twice a day. This photo is by our good friend and photographer, Rob Giersch. It shows a car-less stretch of Dekalb Avenue with the MARTA tracks above at sunset. It is usually a rare sight to see, and yet recently, not so rare.

Atlanta Mayor, Keisha Lance Bottoms, has given us a 2 week shelter-in-place decree. The funny part is, she is allowing us to walk on the Atlanta Beltline as a part of her tweet of "essential places" that we are allowed to visit. Due to my family's ample dog walking, I have been immersed in the work of Greg Mike. Though you are probably familiar with his art (this guy's work is everywhere), I am constantly surprised by his delightful play of ultra-realism mixed with colorful whimsy.

Since I am still working virtually, I get the joy of seeing the encaustic art of Penny Treese, right here in our Candler Park studio. The team is all working from their homes, but I have found working in the studio to be a refuge with all of Penny's art around me.

I hope that you will share the beauty of your community with us. Although we may be isolated to our own neighborhoods and roads, we are all one community working to pull through this and come back together. (Speaking of community, our landlord gave us a rent free April, due to the crisis. Blessings indeed- Thank you!) We are looking forward to hearing how you are feeling, and we are looking forward to seeing you soon (at a safe distance). Take care.