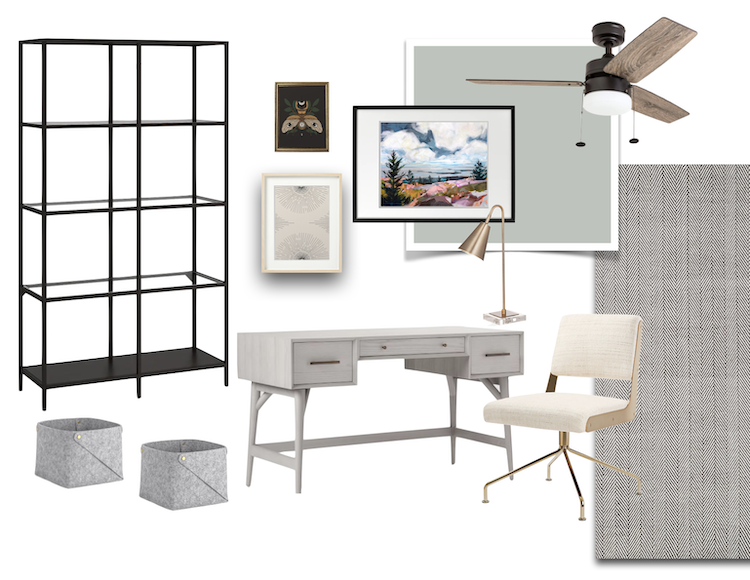 17 Apr

An Office that Works for You

Week 5 of our Shelter in Place in Atlanta. We have a pretty clear picture of our new normal. Many people are working from home. We are zooming, face-timing, video conferencing, and trying to accomplish our work while in wonder of what the future holds. To say working under these circumstances is difficult, is an understatement. We understand this because we are working virtually as well. Monday meetings, client meetings, finding creative solutions without the ease of collaborating with each other at our studio, without the ease of popping by a client's home to run ideas and questions by them, is something that we are beginning to understand. So we decided to put another challenge to our designers that may speak to you personally in these times. Design a serene, organized office that reflects a place that you would like to work- all of a strict budget. Jen tackled the $1500 budget and Melody had a bit more at $5000 (minus tax and shipping). Our hope is that these designs give you some ideas for your own space.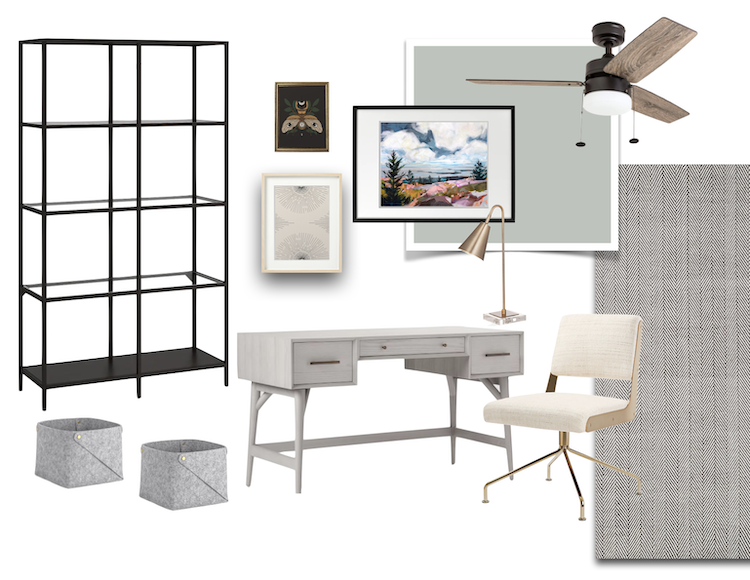 Jen $1500
Inspiration for the smaller budget office came from a few weeks of working outside on the deck and enjoying this beautiful spring weather we're having in Atlanta right now. By creating a light and airy office space within your home, you can bring a similar feeling indoors on the days and nights when you can't work outside. To start, a few key splurges like a grey-washed wood desk and a comfortable, stylish chair can be layered with clean-functional shelving and mixed media artwork. Then, a simple woven cotton rug acts to anchor the furniture ensemble, along with a minimal ceiling fan to provide an overall cozy feeling and much needed air circulation. Your once dreary office can become a fresh place you want to work in and be inspired by.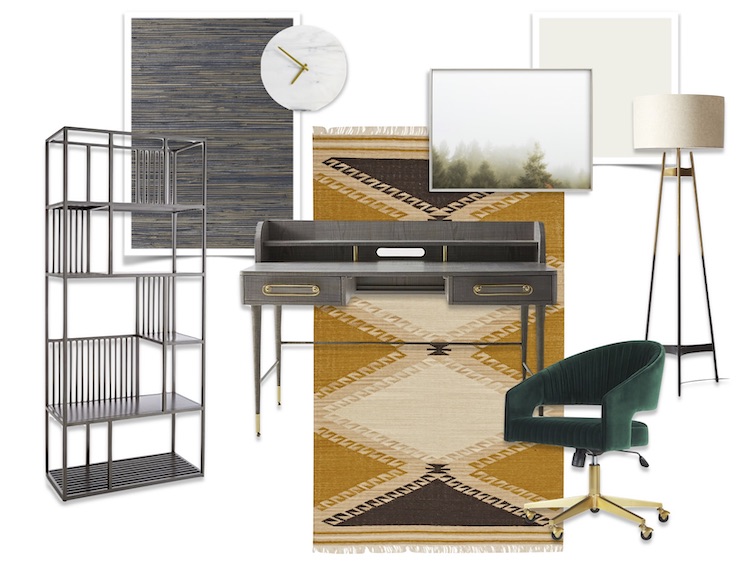 Melody $5000
The go to color palette for a "serene" space tends to use soft light colors, but what if you feel the need for something a little more grounded? The saturation of these jewel tones paired with the layered textures evokes a different sense of calm. The mixed metals of the bookcase and textured desk pair beautifully with the ombre floor lamp. The rich evergreen velvet of the office chair mixes luxe with function atop the mustard tribal flatweave. Cool marble contrasts the warm grasscloth when the clock is layered on the wall, and hung with the foggy forest print. Each piece is intentional and intriguing, giving this space a sense of peace and purpose.
Soon, these designs will also be available as Limited Edition designs. we will be able to send you your favorite design with the links to the items that can ship directly to your home, and some helpful design tips in setting up your new room. We hope that this service can offer some peace, beauty and respite during these difficult times. Please reach out to us at: [email protected] if you are interested in this or any of our virtual design services.