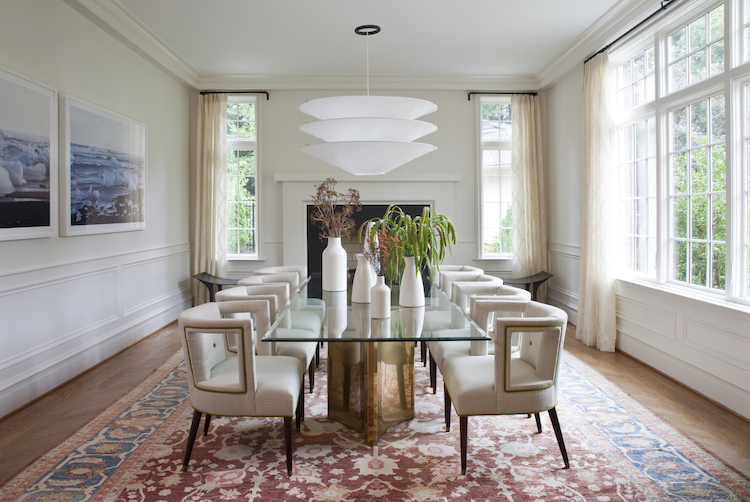 03 Sep

6 Tips for Photography Styling

As designers, sometimes we will be asked to stage and style a home that is going on the market. Usually, however, we are styling for our portfolio and for Instagram. Although we are not photographers, we can help guide what the image feels like by the way we set up the photo and style it. Whether you are selling your home, or just wanting to enjoy the beauty of it, here are some quick tips that we use when we have a photo shoot.

1-Find the Shot.

This takes some time because what you can see with your eyes is much bigger than what the camera sees. So walk around and take some shots using different angles and focal points.

2-Consider Portrait versus Landscape Mode (A Vertical vs. Horizontal Shot)

Portrait orientation creates an obvious focal point and often gives context to the height of the object. It can also help with your view of a beautiful rug or a cool tile floor.

3- Don't take the picture from too high up.

This was a very important lesson to learn. When photographing furniture (particularly a bed, chairs, or sofas), you want the image to be inviting. Shooting the picture at a lower level makes the viewer want to crawl into the chair or bed and be cozy.

4- Determine Your Accessories

Now that you know what you want to shoot, it's time to style. Ask yourself, what elements of the image would compel you to want to be in that space? Would some flowers, a book, or a cup of coffee entice you? Does your picture make you want to linger in that space? Would creating a vignette where you can put your feet up with a nice side table and lamp peak your interest? Imagine yourself in the shot and make the picture clean, neat and inviting.

5- Consider the light.

You may not have noticed, but lifestyle magazines rarely have lights on in their pictures. They usually photograph the space without the beautiful chandelier lit. They ensure that the space is illuminated with natural light to show off all of the elements of the space, without the glare of a lightbulb anywhere. When photographing your own space, this means that you really need to pay attention to the light in your space and the time of day you choose to shoot. Too much light will look blown out while too little light may feel dark and gloomy.

6-Edit. Edit. Edit.

Our ultimate goal is to create fresh, bright, simple shots that are relatable. Oftentimes we have lots of accessories on hand and we need to play around with them before editing and deciding what to take away.


When it comes time for your photo shoot, remember it will take some practice! Take many photos, review them, and then refine your work. It generally takes much more time than you would expect, but usually it is a very fun process. Ultimately, the final photograph is so worth it!