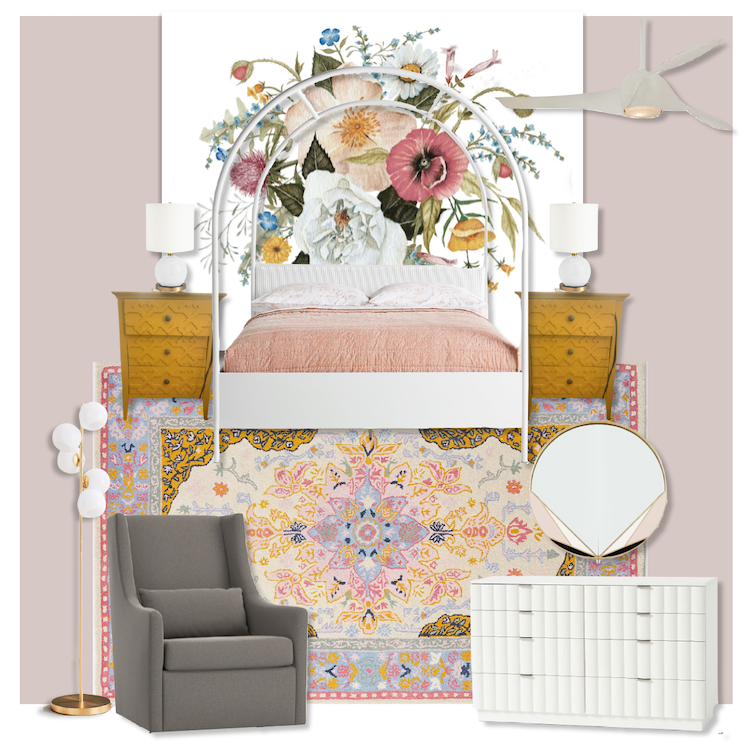 09 Oct

4 Tips and Tricks to Update Your Kids Room

For many of us, when we think back to our childhood rooms we envision chaos, color, and a space all our own. These days, kids rooms have been elevated to a sophisticated space for them to be creative, to grow and to flourish. Curated and collected are words we often hear to describe the ideal spaces for our clients, and they are becoming synonymous with kids rooms as well. When helping your child to create their dream room, the most important thing is that their personality shines through!

We recently designed a room for a family who was ready to transition their daughters room from toddler room to big girl room. They wanted to give her a space that would be appropriate for a whimsical little girl her age, but also a space that could grow with her. Here are a few tips and tricks we implemented, to create this fresh, fun, and floral bedroom design.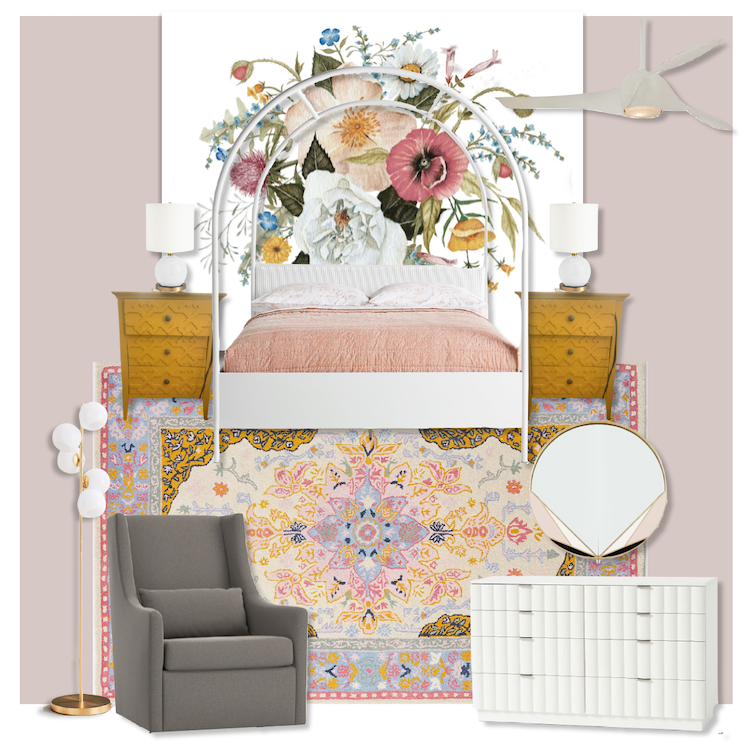 1. Be Bold!
Embrace surprising accents like this oversized floral mural. Whatever your child's interest, an accent wall can help them transform their rooms into their own little worlds. This bright, bold bouquet inspired the color palette for the room, making it fresh and cheerful!
2. Don't Be Afraid to Repurpose.
The family already owned the nightstands and were not planning on using them anymore, but we felt inspired! We loved the pop of color and how well they worked with the mural. If you have pieces that fit and function well and work with your intended design- use them! Sometimes this may mean painting or recovering upholstery, but it gives you the opportunity to use the money you save elsewhere (like this awesome rug!)
3. Anticipate Change
We know how fast kids' interests can change, so our advice is to invest in the pieces that can transition if they need to. The larger pieces such as the bed, dresser, chair and floor lamp, would work with a multitude of themes or interests that may arise as this little girl grows up. Simply changing the color palette and smaller accent pieces, can completely transform the feeling of a room.
4. Elevate Their Personalities!
Childhood years are a fantastic time to be expressive. Give your kids the chance to really show off their interests in their space! This little girl loves all things girly, so we were able to really develop that feeling while still creating a curated bedroom. Pair pieces with classic shapes and themes alongside the more whimsical/adventurous to balance everything out and create an elevated kids retreat.
Sometimes, all we want to do when we peek into a kids room is shut the door. Using these tips and tricks will help make the kids room a room to be proud of! Create a room that grows with them- a space that inspires them to be creative, imaginative, and helps them to flourish!