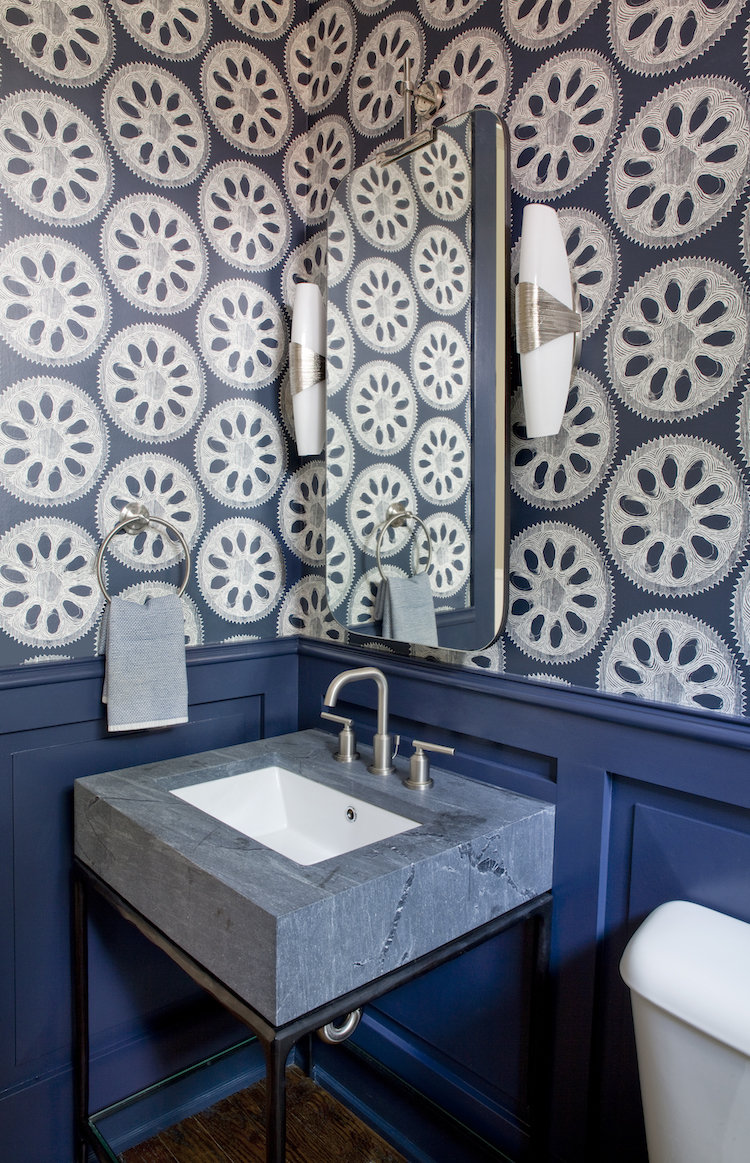 24 Sep

Refresh Your Powder Room

By Marlee Vlassis

Powder rooms tend to be small spaces, so they are perfect areas to renovate when trying to limit your cost, time, and overall commitment. There are so many blogs out there that will give you a list of the trendiest powder room updates- this is not one of them. Instead, we would like to share some ways that you can update the way you think about your powder room and how it can improve your wellbeing. 

The idea of self-care has become cliche, but we truly believe creating a home that fulfills your needs and wants is a profound way of showing yourself and your loved ones that you care. With this in mind, we ask that you reflect on what it is that you and your family needs more or less of. Being intentional about why you're updating your home can help better guide your selections.  Once you've discovered your motivation for updating, then you can think about how your senses will perceive the space.
Here are a few examples of how to create well considered spaces with sensory rich experiences: 

1. Inspiring and Fun
These last few months have been draining for almost everyone, and it's been hard to stay inspired. This powder room has so much movement and color with its wallpaper, and we love the extra surprise of the greek key sink.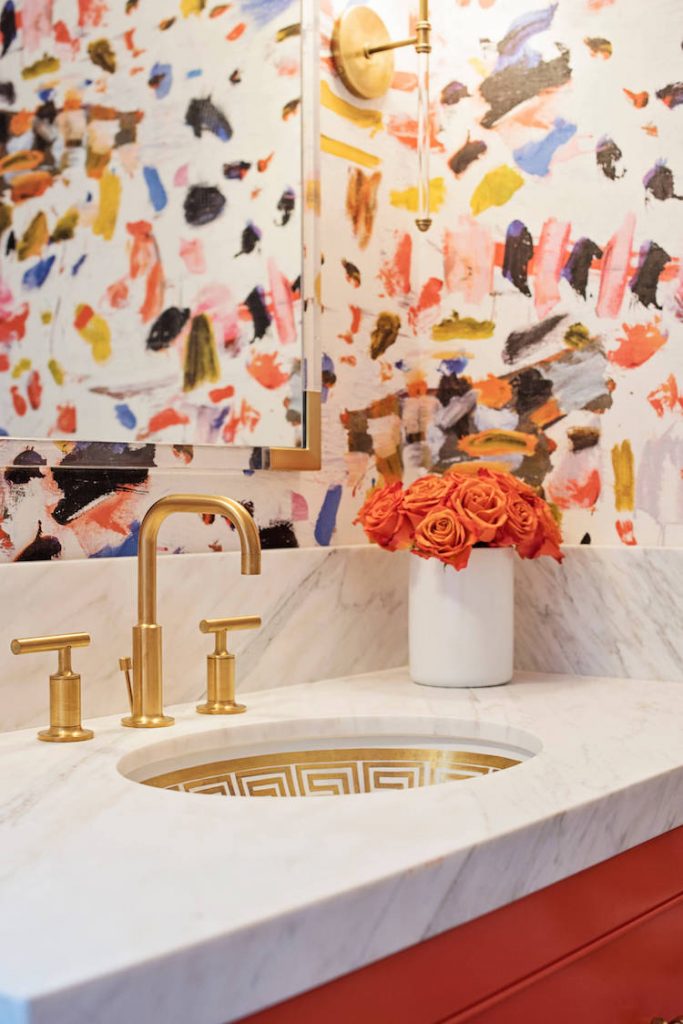 Try it for yourself:
Wallpaper is always a good idea – play with scale or look for fun murals!
Paint your vanity an unexpected hue.
Layering lighting with your mirror can add dimension.
2. Peaceful and Comforting
Zenful spaces have always been coveted, and the right design can slow things down, keep your mind present, and bring you peace. In this tall, monochromatic space, we love how the rhythmic tiles interact with the clean lines of the airy, floating vanity.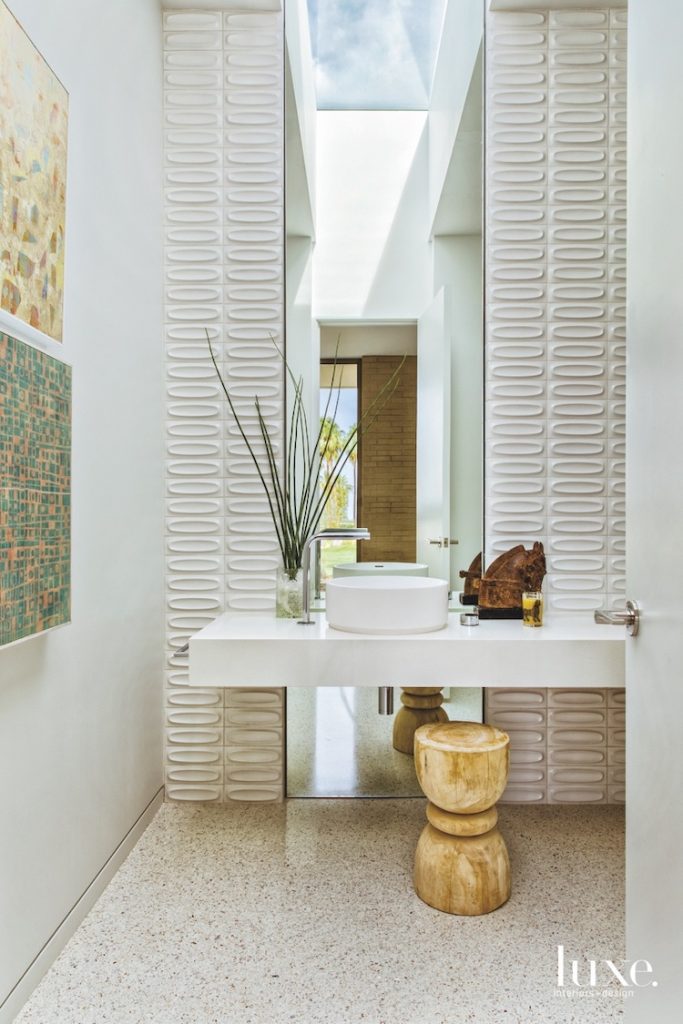 Try it yourself:
Waterfall faucets can provide calming sounds and soothing sensation.
Natural light and/or soft indirect artificial lighting will add functional illumination without disturbing your eyes. 
Lavender bar soap has a tactile and scented experience that results in relaxation.
3. Organized, Fresh and Adaptable
With a busy morning schedule, adding a sense of organization can set the stage for success in your day. This vanity provides plenty of space for baskets to store items, but doesn't have the heavy and boring, big-box vanity feel. Open shelves above the toilet also can provide additional space for decorative items as well as everyday products.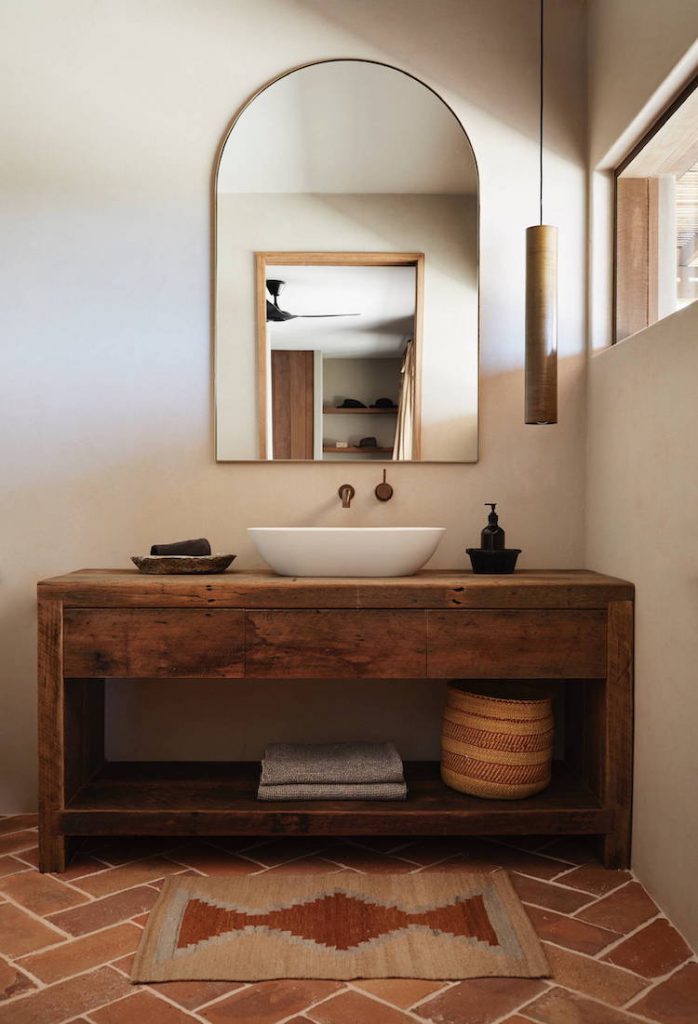 Try it yourself:
Adding a shelf under your mirror can help declutter your countertop.
Updating your faucet, toilet tissue holder, and towel ring to one finish type will add a layer of orderliness. 
Sometimes a neutral paint gives a clean and versatile canvas for curated pops of color in accents such as towels or artwork.
We hope one of these ideas can find a way into your life. Your home and your wellness matter.