by The Balance Design Team
Throughout the month of February, we're celebrating the love of one's home, no matter what form it takes. To kick things off, each member of our team chose the spot (or item) in their home that fills their heart with love and appreciation. As expected, the results were as diverse as each of us!
Stephanie's Home Love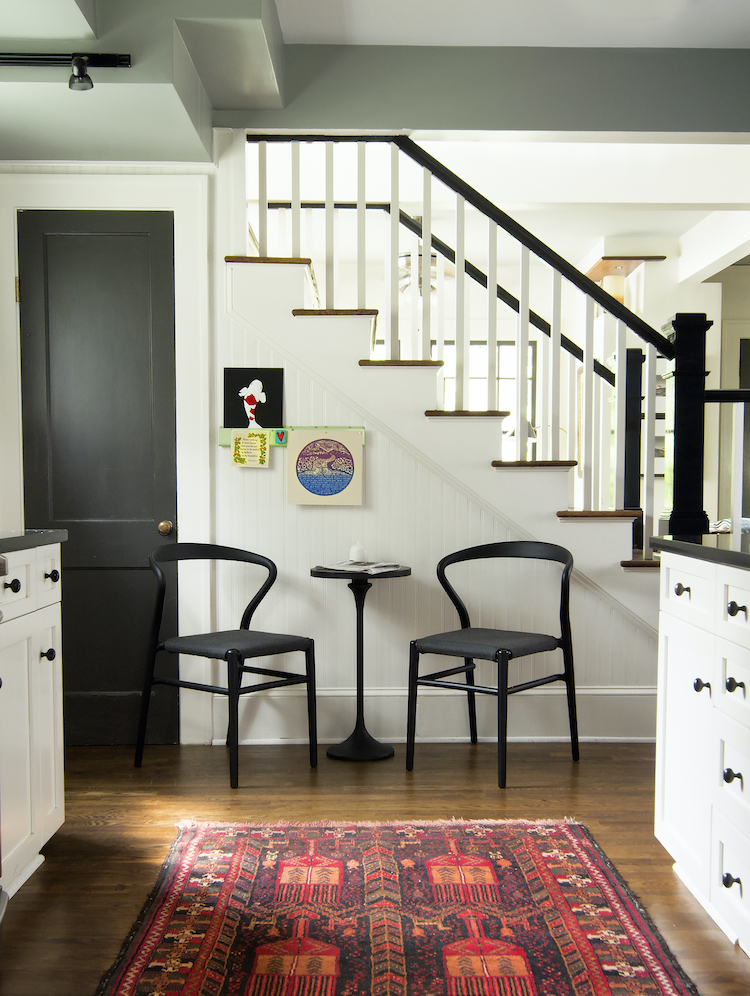 Photo courtesy of Danielle Clockel
Recently my husband and I decided to update our kitchen. It was a dark, gloomy, and dated space with drab wood cabinetry and an underwhelming tile floor. We painted the cabinets, door, and railing before adding new wood floors and wrought iron hardware. A petite cafe table and chairs allows guests to chat while a gracious host cooks up a bite to eat. The final touch, a Persian runner, was a hidden gem found at a church auction. My husband may be the better chef, but our new bright and cheerful kitchen means now at least I spend some more time there!
Margo's Home Love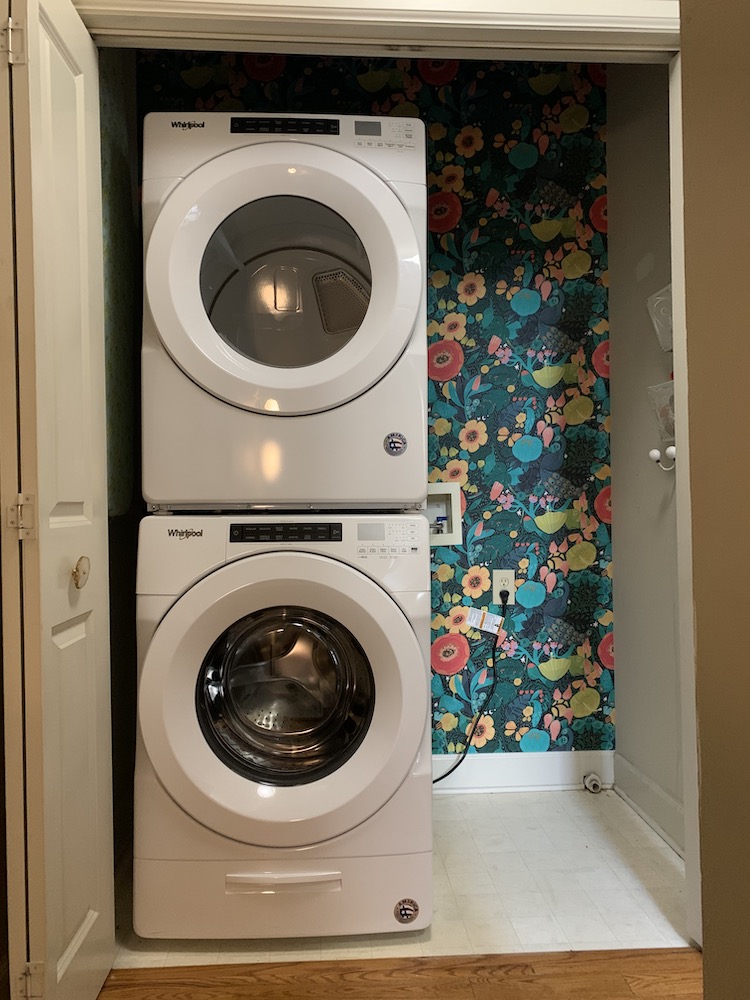 Just a few small changes to this (very) small spot in my home has helped transform my least favorite chore into a cheerful experience. Since I do not have a laundry room (let's call it a laundry closet), I decided to switch from side-by-side machines to stackables. This change generated some much needed walk-in storage space for baskets and a laundry butler. Plus the new vibrant accent wall adds the perfect pop of personality to a previously stark space. The laundry closet is now easily one of my favorite, functional, happy parts of my cozy abode.
Shelby's Home Love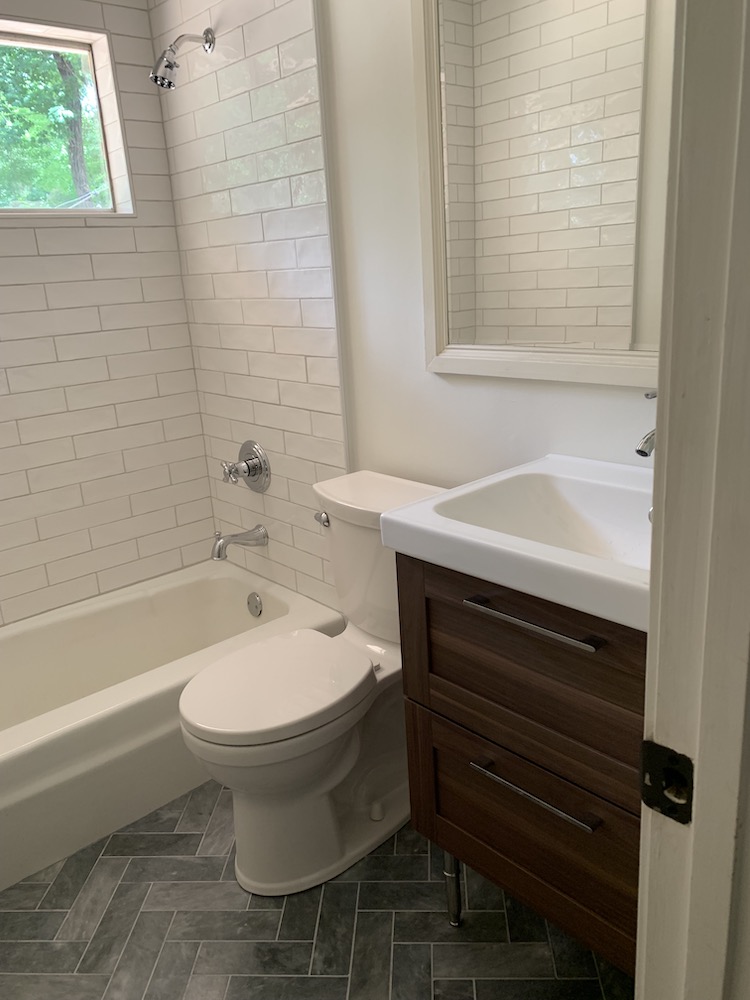 As a kitchen and bath designer, I'm guilty of constantly editing and redesigning these rooms in my own home. Last year my husband and I finally took the plunge and renovated our guest bathroom. We tore out the tired old dingy floor tile and replaced it with a honed Bardiglio marble laid in a herringbone pattern. The shower walls are a handmade elongated subway tile with undulating surfaces reminiscent of flowing water. Clean and classic chrome fittings were the way to go, and we were able to salvage the cast iron tub. We replaced our old vanity with a wall mounted walnut veneer piece, complete with drawers for additional storage. What we were able to create on a budget brings us joy each day, and I never tire at staring at the beautiful movement in the marble and ceramic tile.
Jen's Home Love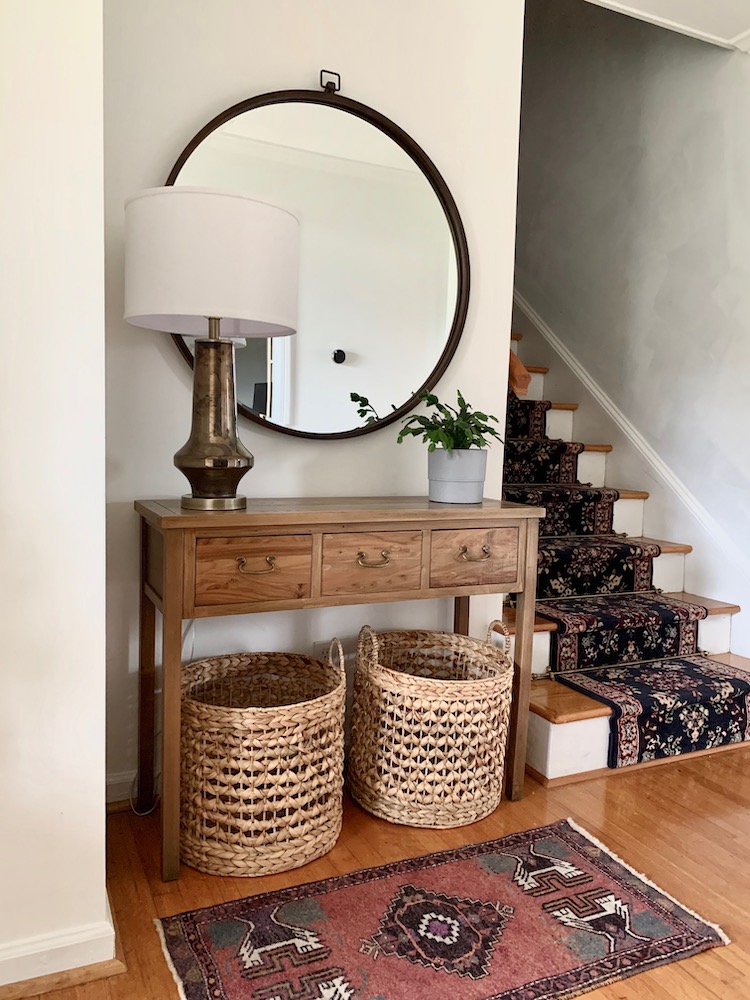 My entire home is an eclectic mix of vintage finds paired with modern touches, and I have to say, the vignette in my foyer is probably my favorite area to date (or at least the only space that is complete at the moment). The goal was to create a warm and inviting entry to our home where you could drop everything and still have the space look styled and organized. It all started with the stair runner that came with the house when we purchased it a few years ago. Although the rug was a bit traditional for my taste, I chose to make it work. By offsetting the stairway with an oversized round mirror and simple wood entry table for storage, this little nook started to take shape. Woven baskets were tucked underneath the table to create the perfect spot for tossing your shoes when you come in, and a smaller antique rug was added for a pop of color and interest on the floor. A large glass table lamp and small potted cactus complete the layered look and brought much needed light and greenery to the area. This room definitely makes me smile now every time I enter the front door.
Whether your happy place is a whole room, a special piece of furniture, or even an outside area, your home should bring you peace and happiness. We're taking this month to celebrate all the things we love in our own spaces — what's your favorite spot in yours?